Summit Awards Gala Appetizer Recipes
Will you be tuning into the Summit Awards Gala from your kitchen to take part in the culinary demonstration? Executive Chef Serge Belair will be demonstrating how to make tourtière croquettes, a version of the meat pie born in and inspired by Quebec, and Parisian gnocchi, dumplings inspired by Italian cuisine. Find the recipes below.
This recipe yields 1 dozen croquettes.
Ingredients
300 gr raw ground beef or ground pork
60 gr diced potato
60 gr sliced mushrooms
Pinch of allspice
Pinch of cinnamon
To taste fresh thyme
75 gr diced onion
1 chopped clove of garlic
Salt and pepper to taste
125 ml chicken stock or beef stock
60 gr roux (30 gr butter / 30gr flour mixed together)
10 ml oil
50 gr butter
Breading station
150 gr Panko or bread crumbs
200 gr flour
2 eggs beaten with a splash of water
Method
In a saucepan melt butter with the oil combine pork or beef and cook for about 7 to 10 minutes, making sure there is good colour on the meat.
Add onion and garlic and cook for about 4 more minutes. Add stock, salt, thyme, black pepper and spices. Cook over medium heat until mixture boils; stirring occasionally. Reduce heat to low and simmer until meat is cooked, about 5 minutes. Add your roux to thicken the meat mixture and cook for another 7 to 10 minutes.
Allow to cool in the refrigerator for a couple of hours or overnight.
Preheat your dip fryer to 375-400 C.
Using an ice cream scoop with desired size, scoop 25 to 35 gr pieces. Shape and form and keep cool.
Prepare the breading station, the flow should go from flour to egg and then panko/bread crumbs. Do this twice so that the sphere is completely covered
Once finished, fry each croquette to desired doneness, they should be a nice golden brown.
Finish them with a touch of ketchup (use Heinz, there is no shame) and some arugula or micro green for garnish. Or try the House Ketchup recipe in the side block!
Enjoy!!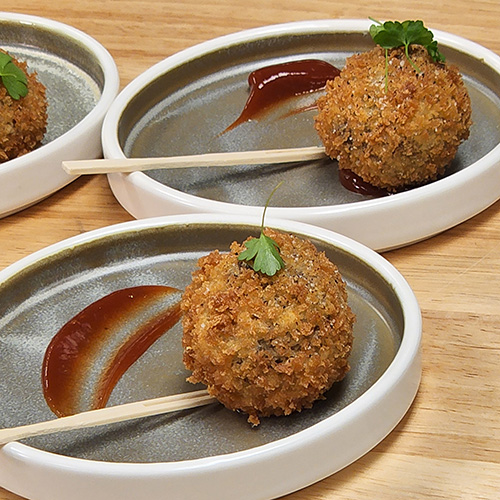 House Ketchup Sauce
(15 ml per serving) (this yields 200 gr)
200 gr Fresh tomato
40 gr diced onion
3 gr all spice
5 gr garlic
25 gr brown sugar
15 gr white wine vinegar
Method
Put all ingredients in a saucepan. Cook on medium heat uncovered, until mixture is reduced by half and very thick. This will take about 15 to 25 minutes. Reserve until needed.
This recipe yields 3-4 portions
Ingredients
150 gr all-purpose flour
225 whole milk
60 gr butter
3 eggs
Pinch of nutmeg
0.5 gr fresh grated nutmeg
0.5 gr black pepper
4 gr kosher salt
100 gr grated parmesan cheese
Olive oil as needed to sear
20 gr Butter to sear

Method
In a medium saucepan melt the butter. Add milk, nutmeg and kosher salt and bring to a rolling boil over medium-high heat, stirring to melt the butter.
Remove the pan from heat. Add all-purpose flour all at once. Stir vigorously with a wooden spoon until the mixture comes together and resembles mashed potatoes.
Return the pan to medium-low heat and stir continuously until the dough smells nutty, glistens, and is thick enough to hold a spoon upright, 3 to 5 minutes. A film of starch on the bottom of the pan is normal.
Transfer the dough to the bowl of a stand mixer fitted with a paddle attachment. (Alternatively, use an electric hand mixer or beat by hand with a stiff spatula.) Beat the dough on medium-low speed until it stops steaming and is just warm to the touch, about 1 minute.
While beating continuously on medium-low speed, add eggs one at a time: Wait for each egg to be absorbed and for the dough to become smooth before adding the next. Scrape down the sides of the bowl if needed between additions. The dough should come together in a very smooth, creamy batter.
Add the grated Parmesan cheese and beat until combined. Transfer the mixture to a gallon-sized zip-top bag, loosely seal, and let rest for about 10 minutes. Meanwhile, bring a large pot of salted water to a boil over medium-high heat. Line a rimmed baking sheet with paper towels or a clean kitchen towel.
Snip 1/2 inch off one bottom corner of the bag. Holding the bag over the boiling water, squeeze the mixture out of the bag, cutting it off with a kitchen shears into 1-inch pieces and letting them fall directly into the boiling water. Cook until the gnocchi float to the top, about 2 minutes. As they float, transfer them with a slotted spoon to the prepared baking sheet and repeat with remaining dough. (It's useful to have a helper here, if possible, to scoop out the floating gnocchi while you are cutting the dough into the water since they'll start to float up in batches while you're still working on adding the uncooked gnocchi to the pot.)
Melt the remaining butter in a large high-sided sauté pan over medium heat with a touch of olive oil. Gently flip and cook to brown on the other side, 3 to 5 minutes more, swirling the pan occasionally so that the butter browns evenly. Toss to coat the gnocchi in the pesto to finish. Transfer to individual bowls and serve garnished with the remaining Parmesan cheese.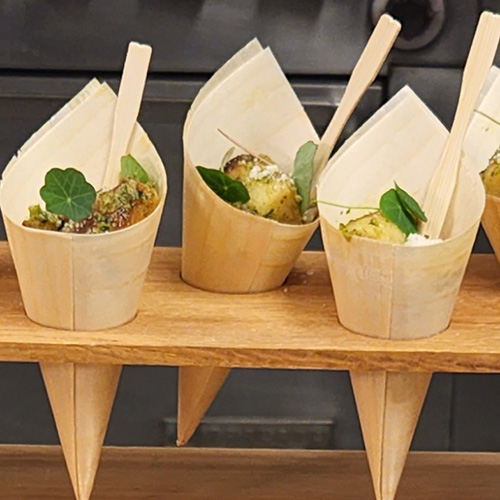 Burnt Broccoli Pesto
Yields 200 gr
120 ml olive oil
100 gr broccoli fleurets
30 gr raw walnuts or pumpkin seeds, if it needs to be nut free
2 garlic cloves
Black pepper to taste
Salt to taste
50 gr grated Parmesan cheese
25 gr basil leaves

Method
Heat up a large pan to high heat, add broccoli fleurets and let sit for about 1 minute (extremely hot) add a light drizzle of olive oil, salt and pepper and cook for about another 1 min, until bright green and slightly charred, stirring once or twice only. Immediately cool to keep the great bright color.
Add broccoli, garlic, walnuts and basil in a food processor or mortar and pestle and crush until desired size, add cheese and add oil as needed to reach desired consistency.
Reserve until needed. Store in an airtight container in the refrigerator for up to one week.
Did you make these recipes at home?
We'd love to see how your efforts turned out! Post your results on social media and tag it #APEGAsummit so we can see how you did!
Don't forget to follow APEGA on social media:


Follow APEGA on Facebook

Follow APEGA on Twitter

Follow APEGA on LinkedIn

Follow APEGA on Instagram

Follow APEGA on YouTube