The search is on! Applications now open for the 2024 APEGA Council election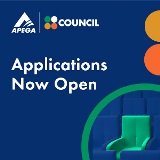 APEGA's search for applicants for the 2024 Council election has begun! If you are a registrant with the necessary competencies, apply for consideration to help steer the professions as we drive Alberta forward with courage and innovation.
Nominations open on August 14 and close at 4:30 p.m. on September 21.
Apply today
Any registrant in good standing with an eligible membership type can complete an online application. At this time, paper nominations are not accepted.
As part of your application, you will need to:
All applicants that are assessed to have the competencies needed in the current election cycle will be placed on the ballot as candidates.
Nominating Committee assessment
The Nominating Committee uses a two-stage assessment process to determine whether the applicant's qualifications, experience, and skills align with the recruitment priorities for the current election year. This ensures Council comprises individuals with the right balance of competencies, resulting in a stronger and more effective Council.
Written response assessment stage: After personal identifying information is removed, a subcommittee of the Nominating Committee reviews the written responses to the submission questions. A predetermined rubric and threshold are used to assess the applicants.

Applicants who satisfy the requirements advance to the interview stage of the process.
Applicant interview stage: A Nominating Committee subcommittee conducts interviews. Interview responses are evaluated against a predetermined rubric.

After the interviews are complete, the applicants whose skills and experience meet the required assessment threshold are placed on the ballot.
2024 election dates
Candidate names will be released to voters in December 2023. Voting will begin on February 5, 2024, and will run until March 7, 2024.