APEGA Council Election 2021 has started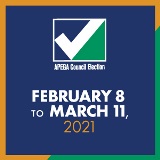 Members can vote from February 8 to March 11
We are now in election season!
From Monday, February 8, at 9:00 a.m. until Thursday, March 11, at 4:30 p.m., eligible members are encouraged to visit
www.apega.ca/election
to participate in the election process.
One Ballot, Two Questions
This year, your ballot includes two questions: you are asked to vote to approve an amendment to the APEGA bylaws that will authorize meetings of the Association (such as the annual general meeting) to be held in person, electronically, or as hybrid combination of both.
Candidate Profiles
To keep things simple, we have streamlined the research process for you. We have created a webpage dedicated to
the candidate profiles
, as well a
video playlist
featuring all the candidates so you can get an idea of what matters to the candidates. We have also made it easier to find candidates' answers to four important APEGA questions.
Help promote the vote!
Follow APEGA on social media and share the voting message with your network!
If you have any questions about the election or the election process, just send a note to [email protected]