Planetariums Were All the Rage Once—Will the Magic Return in Edmonton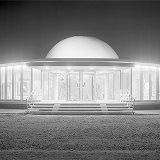 Tucked away in Coronation Park, near TELUS World of Science, the Queen Elizabeth II Planetarium sat neglected for decades. Resembling a flying saucer (on purpose), the structure was designed by Canadian architectural icon Douglas Cardinal. It was built to commemorate the 1959 visit of Queen Elizabeth II and Prince Philip.
The first city planetarium in the country, the structure was a well used, drawing 33,500 visitors a year at the peak of its popularity in 1967. But by the time the nearby science centre opened in 1983, planetarium were losing their lustre.
The flying saucer in the park was shuttered, becoming little more than a curiousity.
In 2017, Edmonton declared the planetarium a municipal heritage resource. It's capital budget by then had $7 million earmarked to restore the structure to its former glory.
The project was entrusted to Architecture | Tkalcic Bengert, an Edmonton architectural firm acquired by APEGA permit holder Stantec in 2016. Since then, both the exterior and interior of the building have been refurbished. The hope is that visitors have a similar experience to what they would have had 59 years ago—while appreciating modern-day accessibility and energy-efficiency.
The project began with the repair of the building's crumbling dome, a massive undertaking that involved installing eight concrete sections—each weighing 5,500 lb.—onto the rooftop with a crane. Crews also salvaged original tiles, which were hand-cleaned and reinstalled on the exterior of the building. Inside, new drywall was hung and walls painted, and a new projector was installed in the planetarium theatre.
A grand opening will take place sometime in 2020. Once complete, the property will provide additional educational, reception, and production space for its fancy neighbour, TELUS World of Science Edmonton (TWOSE).
TWOSE is undergoing a makeover of its own. Infrastructure Canada just promised $8.65 million in new funding to support the fourth phase of a $40-million renovation dubbed the Aurora Project. Aurora is underway now, and phase four will include renovations of the Health Gallery and Science Garage, as well as the construction of a 929-square-metre interior space with a new lobby and Arctic Gallery.