Volunteer for a Committee or Board
APEGA's committees and boards assist with the Association's governance and operations. They are involved in a wide range of engineering and geoscience initiatives, such as examinations and professional admission, the ongoing improvement of guidelines and standards, and member recognition and awards. Boards and committees play a vital role in the engineering and geoscience professions by ensuring members are held to the highest standard.
For more information on volunteering or the current opportunities, email the Volunteer Management Coordinator at [email protected].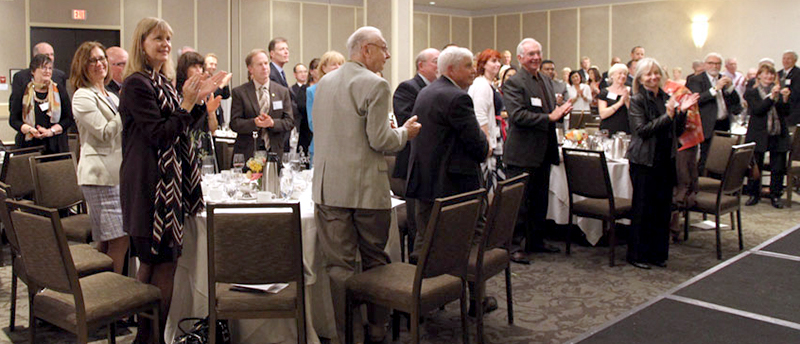 Enhance APEGA's High Qualification and Exam Standards
Maintaining APEGA's high standards for professionalism and expertise requires a high standard of membership. Help assess new member applications and qualifications or contribute to the regulation of the examinations used in the application process.
APEGA members are invited to volunteer to help produce new, high-quality examination questions to add to the National Professional Practice Examination (NPPE) item bank to be used on future administrations of the NPPE.

Qualifications

Professional licenced engineer or geoscientist registered with Alberta or another Canadian association
Strong English language and comprehension skills to write high-quality examination questions
Working knowledge of professionalism, law, and ethics as outlined in the NPPE scope and syllabus

Commitment

A minimum of 5 new questions per month (equivalent to approximately 5-8 hours per month)
Can be done remotely - you can live anywhere in the world provided you are licensed with a Canadian engineering or geoscience association and have a high-speed Internet connection to access the online question authoring platform

APEGA is looking for members to act as subject-matter experts (SME) on the Registration Committee. The primary duty of a SME is to review and provide recommendations on whether an applicant for professional registration has met the minimum requirements for registration.

As part of APEGA's criteria for selection for this volunteer position, volunteers must undergo a credit and criminal background check, performed by Sterling BackCheck on behalf of APEGA.

Qualifications

5-7 years as professional member with APEGA

Commitment

Review 5-15 files per month (equivalent to about 10 hours per month) and attend 2 workshops per year
Get Involved with APEGA's Complaints and Enforcement Process
When you join one of the boards or committees involved in APEGA's complaints and enforcement process, you will help to ensure that the regulations in the Engineering and Geoscience Professions Act are properly and fairly enforced.
The Discipline Committee adjudicates on allegations of unskilled practice and unprofessional conduct brought before it by the Investigative Committee following complaints against APEGA members (individuals and/or permit-holding entities).

Qualifications

Licensed as a P. Eng., P. Geo., P. Geol., P. Geoph., P.L.(Eng.), P.L.(Geo.) with APEGA
Minimum of ten years of industry experience.
Cannot serve on conflicting statutory boards, such as the Appeal Board or the Investigative Committee.
Tribunal decision making, communication, listening and decision writing skills considered an asset.
Committee and governance experience considered an asset.
Have exposure to reading legislation — whether it is for municipal permits, appeals in other courts, interpretation of other acts or just familiarity with the EGP act in any capacity
Writing legal decisions
Exposure to any legal proceedings, whether it is in the APEGA systems, other regulators, or through the Alberta court system.

The Enforcement Review Committee regulates unlicensed practice and title use as per the Engineering and Geoscience Professions Act.

As part of APEGA's criteria for selection for this volunteer position, volunteers must undergo a credit and criminal background check, performed by Sterling BackCheck on behalf of APEGA.

Qualifications

Professional member licensed as a P.Eng., P.Geo., P.Geol., P.Geoph., or P.L. with APEGA
Minimum of 10 years of industry experience in Canada
Be competent in group decision-making, analytical thinking, and cooperation
Committee and governance experience is considered an asset
Share Your Professional Practice Expertise
When you volunteer for these opportunities, you will take part in the creation and update of professional practice guidelines and standards for the engineering and geoscience professions. These documents are trustworthy sources of information that detail the professional standards that must be met by all practising members.
The Practice Review Board (PRB) and its subcommittees operates as a critical piece of APEGA's overall regulatory framework under the administrative responsibility of the Registrar and Chief Executive Officer and the Chief Regulatory Officer. Through assessment and evaluation of APEGA's licensed professionals and permit holders, the PRB ensures that APEGA's procedures in the areas of registration, discipline, maintenance of competence, and enforcement are adequate to protect the public interest.

Qualifications

Licensed by and in good standing with APEGA as a licensed professional (P. Eng., P. Geo., P. Geol., P. Geoph. or P.L.).
Significant experience as a professional member, ideally over 10 years of industry, regulatory, or public service experience.
Familiarity with the Engineering and Geoscience Professions Act and the regulations, APEGA practice standards and guidelines, CPD program, and compliance with the Act.
Previous management experience (managing a team of at least five persons) and familiar with group decision making, analytical thinking, and cooperation.
Experience with regulatory boards or committees is an asset.

Represent APEGA in Joint and External Initiatives
Represent APEGA's interests and offer your expertise by participating in initiatives, on boards, and on committees organized by external groups.

The APEGA/ASET Joint Board of Examiners is responsible for the review and evaluation of the qualifications of Professional Technologist (Engineering) and Professional Technologist (Geoscience) applicants for registration with the Association of Science and Engineering Technology Professionals of Alberta (ASET).

Skills and Qualifications

APEGA's appointees to the joint board must be a practicing professional member with at least 10 years of experience, preferably in chemical or petroleum engineering.

Term of Office

Three years (possibility of reappointment)
Join Your Branch's Executive Committee
The APEGA branches are integral to APEGA operations. With 10 branches across the province, they are the conduit between APEGA Head Office and APEGA members.
Branches open for applications: Yellowhead

APEGA branches are seeking volunteer members-at-large. Reporting to the Chair of the Branch Executive, members-at-large will actively participate in the activities of the branch, including events and subcommittees.

Qualifications

Professional engineer, professional geoscientist, or member-in-training in good standing as a member of APEGA

The Golf Tournament Subcommittee Member reports directly to their Golf Tournament Lead and indirectly to their Branch Chair, Branch Coordinator, and the Director, Outreach and Product Services.

Responsibilities

Assist in all or some of the aspects of the golf tournament and works with committee members and Branch Coordinator to fulfill various duties in relation to the Branch's golf tournament including (but not limited to) the following: Sponsorship, Registration/Promotion, Volunteers, Budget, Prizes/gifts/donations, and Food and Beverage.
Contribute ideas
Volunteer to do work between meetings
Serve the needs of the association
Get Involved with Nominations, Honours, and Awards
Review, vet, and recommend nominees for APEGA's annual Council Election and for awards and honours bestowed by APEGA and external organizations.
There are no volunteer openings of this type right now. Check back again later!