Mentor Profile: Veera Iyer, P.Eng., APMP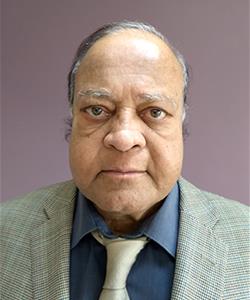 Employment Status
Semi-retired engineer

APEGA
Designation: P.Eng. (2008)
Branch: Calgary
Mentor since 2009
Education
Bachelor of Technology in Chemical Engineering
Project Management (APMP) Certification
Professional Experiences
Chemical engineer with extensive international experience working in multiple disciplines such as operations, projects, process engineering, and business development.
Languages
English, Hindi, Tamil, Marathi, Gujarati, Malayalam, and Punjabi
Employers
Strategic Vista Corp. Inc. (Ontario)
Virtual Engineers Collective Inc. (Ontario)
SNC-Lavalin (Ontario)
WorleyParsons Infrastructure (Alberta)
Shell AlbianSands (Alberta)
Olds Softgels Inc. (Alberta)
India/Europe Employers:

Unilever
ThyssenKrupp
Larsen & Toubro
Why be a mentor?
"Duty calls upon us to help out other people."
In January 2001, Veera came to Canada after training and working in India as a chemical engineer. During his long illustrious career, he has worked in two countries and in a variety of different roles that ranged from operations management to business development for large and reputed engineering firms.
He found that the mentorship process was typically informal and relied a lot on senior managers providing the direction and guidance. Now semi-retired, participating in APEGA's mentorship program is Veera's way of giving back.
"I wanted to share what I've gained in my profession, like soft skills, knowledge, and expertise. For me, mentoring is like charity. You feel good when you give back and you don't charge for it."
Why should a professional engineer or member-in-training look for a mentor?
"Mentors need to share their 'battle scars' with mentees."
About half of the mentorship discussions that Veera has are during a time of crisis. Being proactive and applying for the APEGA mentorship program when things are going well allows mentors and mentees to build a stronger relationship, so they are better equipped to navigate life-changing career decisions during stressful times.
Mentors have substantial experience and a track record of choosing the right path whenever there's a difficult crossroad ahead. By sharing personal stories, mentees can gain a completely different perspective to help them solve difficult problems while saving time and the potential loss of reputation.
"A good mentor must be a good teach first. We are indebted to give back to our profession as mentors to help the younger generation perform better and avoid our own past mistakes."
What type of life lessons do you like to share with your mentees?
As a professional engineer in Canada and India, Veera worked with colleagues from several countries with varied cultural backgrounds and professional experiences. This diversity showed him how influential culture can be when it comes to problem solving. For example, a German engineer will have a completely different approach to solving a problem than a Nigerian engineer, even though they may come to similar conclusions.
"Coming to Canada and working with such a large diversity of cultures taught me a lot about the human aspect of what it means to be an engineer."
"A good mentor can save the mentee considerable time and potential loss of reputation."
What kind of issues do you often talk to your mentees about?
After meeting many mentees over a cup of coffee, Veera found that he doesn't give a lot of advice about the technical parts of the engineering profession. Mentees tend to ask him questions about how to avoid obstacles in their career and how to navigate through current obstacles and approach big picture opportunities, such as long-term career development.
Interested in becoming a mentor or a mentee?
Applying is quick and easy! Find out your eligibility and apply today.