Mentor Profile: Svetlana Bidikhova, P.Geoph.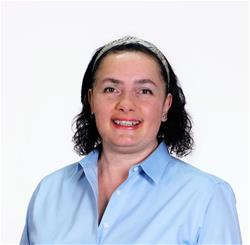 Employment Status
Self-emloyed as the chief operating officer of GeoVectra Canada

APEGA
Designation: P.Geoph. (2006)
Branch: Calgary
Mentor since 2016
Education
Master of science (honours) in geophysics from Lomonosov Moscow State University (1990)

Volunteer Highlights
Society of Exploration Geoscientists, mentor (since 2017)
APEGA, mentor (since 2016)
Women's Network at Shell Canada, mentor (2010 to 2015)
Employers
Shell
ION Geophysical
Pure Technologies
Why is mentoring important to you?
"Someone needs to do it. Someone needs to transfer the knowledge and lead the young professionals in their career paths."
Throughout her career, Svetlana Bidikhova, P.Geoph., has had many mentors of her own—informal and through workplace programs—and she knows how powerful mentoring can be. "You need someone to hold your hand sometimes," she says. "You also need advice on technical things, where to apply yourself next, developing your career, how to build a relationship with a new group—it's all kinds of things." She's forever grateful for those who gave their time and knowledge to help her succeed.
What made you want to become a mentor?

"Mentorship takes time and energy you sometimes don't have because of everything else in life, but I just believe in it."
In 2010, Svetlana became a mentor herself via Shell Canada's Women's Network, and was a committed volunteer until 2015, when she lost her job in a round of layoffs. In 2016, she and a colleague created their own firm, GeoVectra Canada, and despite the massive amount of work starting a new company involved, she began mentoring with APEGA. A year later, she joined another mentorship committee—the Society of Exploration Geoscientists.

She feels a strong sense of duty to the next generation, Svetlana says, and finds enormous satisfaction in using her knowledge, expertise, and wisdom to help someone else achieve their goals and overcome challenges. "You establish a very meaningful relationship with them in a few months or a year," she says. As a result, she continues to stay in touch long after the official mentorship term is over. "We become friends—and stay friends."
Interested in becoming a mentor or a mentee?
Applying is quick and easy! Find out your eligibility and apply today.