Mentor Profile: Lindsay Seidel-Wassenaar, P.Eng.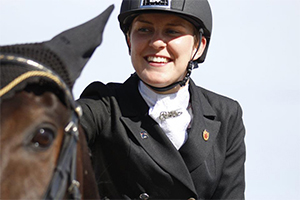 Employment Status
Sonnevera International Corp.
Project Leader, Environmental Consultant
APEGA
Designation: P.Eng. (2017)
Branch: Edmonton
Mentor since 2019
Areas of Specialty
Circular Economy
Waste Prevention/Minimization
Recycling
Waste Policy
Program Development
Municipal Process and Program Development
Strategic Planning and Policy
Education
Bachelor of Science in Environmental Engineering, University of Alberta (2011)
Employers
Sonnevera International Corp.
The City of Calgary
Tetra Tech
Passing the Reins to Tomorrow's Engineers
"I think it's important to give back to the community and industry. We've all been there in our career. You need people along the way to guide you and answer those silly questions—the ones that aren't really silly at all."
Running a dense bristle brush across her horse Gaga's chestnut-toned back, Lindsay Seidel-Wassenaar, P.Eng., is saddling up and going for an early-morning ride before beginning her workday.
In 2017, she left her role with the City of Calgary Waste and Recycling Services and moved back to her family farm in Bluffton, Alta., to be a project leader and environmental consultant at Sonnevera International Corp. The new job allows time for both her passions to thrive—competing in a form of horseback riding called dressage and promoting a circular economy through environmental engineering.
The flexibility of consulting from home also means Lindsay has time to give back—she mentors up-and-coming professional engineers as part of APEGA's mentoring program.
Saddling Up to the Environment
"As engineers, we have an extra responsibility to take care of the environment through design. APEGA's mentoring program gives me an opportunity to promote sustainability and encourage mentees to have the environment top-of-mind."
Lindsay is currently mentoring an environmental engineering student from the University of Alberta, and she's excited to be paired with someone with passion for the planet.
A high standard of work is also an important attribute for an engineer, explains Lindsay. Thriving on the perfectionism required in the art of dressage, she carries this diligence into her consulting and passes on her pride-in-work mentality to mentees.
Riding Side-By-Side Down the Trail
According to Lindsay, who has also had a mentor of her own—a good mentor pinpoints where a mentee needs guidance or assistance, because each person and career is different.
A good mentee is not afraid to take risks and is willing to be vulnerable, she says, they must be open to making connections within the industry.
Lindsay emphasizes the mentor, mentee, and industry all benefit from these relationships. "It's a way to keep the industry healthy and growing. It's also important for more experienced professionals to learn from someone new and innovative—to be inspired."
Read more about APEGA's mentoring program and check out professional development opportunities such as APEGA's Nexus Conference.
Interested in becoming a mentor or a mentee?
Applying is quick and easy! Find out your eligibility and apply today.