Mentor Profile: Darnell Franco, P.Eng.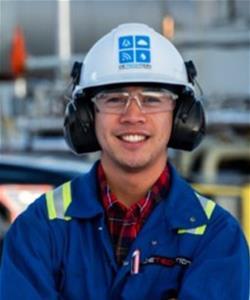 Employment Status
Senior engineering account manager

APEGA
Designation: P.Eng. (2016)
Branch: Calgary
Mentor since 2011
Education
Bachelor degree in aerospace engineering from Carlton University (2011)
Employers
Detechtion Technologies (Calgary)
Professional Experiences
Electrical engineer with experience in military communication systems, integration and testing, and SATCOM.
Mechanical engineer with experience in natural gas compression, gathering system optimization, and IIoT.

Creating that first mentor experience
"As a young engineer, I just looked up to these guys.... They modelled the holistic type of life I wanted to live."
Darnell was fortunate to start his career working with excellent mentors. One of the things he learned was that no matter how young or old you are, or how much experience you have, a strong network of people to learn from is essential to success.
Graduating as an aerospace engineer, Darnell started his career with a huge learning curve—understanding the basics of electrical engineering. Although there is overlap between the different engineering disciplines, he still had to learn the jargon. His first mentors went over and above to point him in the right direction and teach him the technical knowledge that came with his new role.
Why is it important to be a mentor?
"One of the best ways to say thank you is to get involved yourself—pass along that knowledge and be a good mentor for someone else."
When Darnell asked his mentors how he could express his gratitude for all their help, the answer was simple: pay it forward.
Since becoming an APEGA mentor, he has attended several of the speed mentoring, networking, and interviewing events to connect with his professional peers and members-in-training.
Through APEGA's mentoring software, Darnell has so far developed one really strong long-term mentee relationship. It's important to remember that the mentorship process is a numbers game. "If you meet 10 mentees at an event, about six people will actually reach out for a conversation, then maybe three of those conversations translates into coffee, and maybe one of those coffees will build into a solid relationship."
How old is too old to be considered a mentee?
"An APEGA P.Eng. is pretty receptive and open-minded to the fact that you can learn something new from anyone regardless of your background or age."
Engineers are focused on results, and part of that process is properly identifying the problem and then finding the best way to solve it. For Darnell, this drive for results led him to mentoring professional engineers sometimes 30 years his senior.
Professional engineers in every discipline understand that the world is changing rapidly, and technology is changing the culture of how they do their work effectively. It's not surprising that the younger generation raised on technological innovation is providing advice to a generation of adopters who are trying to integrate these changes into successful business processes.
"When mentoring someone older than you, it's more like a two-way street," explains Darnell. "In our conversations, we identify things that we'd like to learn about each other and about each other's experiences."
Interested in becoming a mentor or a mentee?
Applying is quick and easy! Find out your eligibility and apply today.