Mentor Profile: Bing Lin, P.Eng.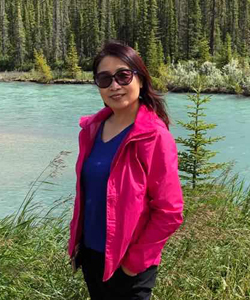 Employment Status
Process Engineer with EPCOR

APEGA
Designation: P.Eng. (2009)
Branch: Edmonton
Mentor since 2009
Education
Bachelor of Science in Biochemical Engineering from the East China University of Science and Technology (1990)
Masters of Environmental Engineering from the University of Alberta (2007)
Volunteer Highlights
APEGA mentor (since 2015)
APEGA events, including Science Olympics, ethics workshop, rapid resume and speed mock interviews, and Science Nights
Mentoring with EPCOR
Employers
EPCOR (since 2009)
AECOM
Dalian Engineering and Machinery Environmental Protection and Research Institute
China National Petroleum Corporation Jilin Chemical Environmental Engineering Company
PetroChina Jilin Chemical Industrial Company Limited Wastewater Treatment Plant
What was your path to engineering?
"When I was in high school, I was very good at math, chemistry, and physics, compared to other subjects. A person who is good at math normally goes into the engineering field."
As a young woman, Bing Lin had no trouble picking a career path.
"My dad was an engineer, my brother was an engineer, and my uncles were engineers, so to me, it was just normal that I went into engineering," she explains. On top of this, Bing had always been good at math, chemistry, and physics, and knew these strengths would help her succeed in engineering.
So, in the mid-1980s, she left her home in northeast China for the bustling city of Shanghai to study biochemical engineering at East China University of Science and Technology.
After finishing university in 1990, Bing got a job as a wastewater treatment process engineer with PetroChina Jilin Chemical Industrial Company Limited Wastewater Treatment Plant. After 12 years, she became an environmental engineer/environmental impact assessment consultant with Dalian Engineering and Machinery Environmental Protection Research Institute, where she remained for the next two years.
On to Canada
"At the time, quite a lot of people were immigrating to Canada. Canada needed more skilled workers."
Bing was succeeding as an engineer in China, yet as a parent, she wanted to raise her daughter in a country with a better education system and a healthier environment. In the early 2000s, she learned Canada was allowing a greater number of foreign workers to immigrate—especially skilled workers like herself. "When I learned about this opportunity, I applied and was successful. That's why I'm here," she remembers.
In 2004, she arrived with her family in Edmonton and began looking for work. There were few opportunities in her field, so she decided to upgrade her education by earning a master's degree in environmental engineering at the University of Alberta. After graduation, Bing obtained her P.Eng. designation from APEGA, giving her the right to practise engineering independently in Alberta. She also joined APEGA's Mentoring Program to gain guidance on working in Alberta as a professional engineer.
From mentee to mentor
"My mentor could have used his spare time for something else, but he used it to help me. Now, I can do the same and help other people."
Bing believes having a mentor made it easier for her to adapt to the professional work environment in a new country. It was such a good experience that she decided to pay it forward and become an APEGA mentor.
"Now I have the opportunity to help other people, like foreign-trained engineers, and share my experiences about how I became an engineer here. I want to inspire them to find a pathway to becoming an engineer, and I want to help young people graduating from university who aren't sure how to find a job and need help with their resume or interview skills."
Recently, Bing began mentoring colleagues at EPCOR, where she has worked as a process engineer since 2009. She has also expanded her APEGA volunteering to include assisting at events, like the annual APEGA Science Olympics.
Although all of her volunteer contributions are rewarding, watching her mentees succeed is particularly exciting. "When they find a job and share the news with me, I'm not just happy for them—I'm happy I was able to contribute," she concludes.
Interested in becoming a mentor or a mentee?
Applying is quick and easy! Find out your eligibility and apply today.