Mentee Profile: Nikeetta Marshal, P.Eng.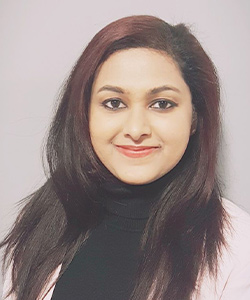 Employment Status
Plant electrical engineer

APEGA
Designation: P.Eng. (2017)
Branch: Fort McMurray
Mentee since 2017
Volunteer since November 2017
Education
Bachelor degree in electrical and electronics engineering from Mahatma Ghandi University in India
Masters degree in electric power systems from the University of Bath in the United Kingdom
Professional Experiences
Professional electrical engineer with experience in the lighting industry, electric utilities, and oil and gas consulting and operations.
Employers
United Arab Emirates:
Al Jaber Lighting LLC
Alberta:
ATCO Structures & Logistics
AMEC Americas Ltd.
FortisAlberta
Syncrude Canada

A trusted platform
"I am where I am today thanks to the people who helped me along the way."
When Nikeetta immigrated to Canada in 2011 from the United Arab Emirates, she wasn't sure where her career in engineering would take her. However, through APEGA's mentorship program, she's been able to meet the right people to help her succeed as a professional electrical engineer in Alberta. The mentoring program was introduced to her by one of her senior colleagues, who also happens to be an active APEGA mentor.
"APEGA's mentoring program provides a positive and safe platform to find mentors, compared to other networking mediums, because you know with confidence and assurance that you're dealing with a professional engineer on a trusted platform," Nikeetta says.
Finding the perfect match is key
"You need people to grow."
Nikeetta appreciates how easily APEGA's mentorship software found suitable matches while keeping personal information confidential. For example, she was able to find professional engineers with experience in her field who lived in Fort McMurray. The connection she made with her mentor has been invaluable to her professional success.
"The program was really straightforward and easy to use, and there are actual people available to help you. APEGA's mentorship coordinators are easy to reach out to and they responded quickly. The program also keeps the information confidential and reveals the information you need to connect at the right time."
Mentorships can accelerate career opportunities
"The insight and values he shared with me were great—and he's still mentoring me!"
Due to the quality of her match, Nikeetta was able to further develop her skills and learn how to thrive in her new work environment. Many of the discussions she had with her mentor focused on workplace expectations, procedures, and handling difficult scenarios, giving her insight into how she can accelerate her career in her new position and work environment.
"He's been coaching me very well. He gave me great tips on how I could improve my performance at work by drawing directly from his own experience of success at our company."
Interested in becoming a mentor or a mentee?
Applying is quick and easy! Find out your eligibility and apply today.