Mentee Profile: Morgan Brooks, G.I.T.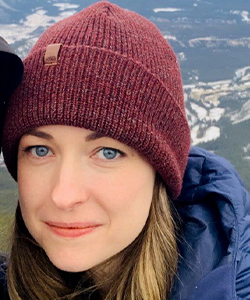 Employment Status
Master's student at the University of Calgary

APEGA
Designation: Geoscientist-in-training (G.I.T.) (2018)
Branch: Calgary
Mentee since 2019
Education
Bachelor's degree in geology (2018)
Currently completing master's degree in geology at University of Calgary
Professional Experiences
Petroleum geology, working in oil and gas.
Previous Employers
Arc Resources
Repsol
Imperial Oil
Education set course for a career in geoscience
"Geologists are like detectives."
It took only a few university courses before Morgan realized she wanted to turn her passion for geology into a lifelong career. After a few years of studying and training, she now knows what to look for in a rock sample or outcrop to see Earth's history unfold right before her eyes.
"You can look at a rock and know a lot about its history. It tells a story and I think that's really cool," she explains. "That wasn't something I could do before I started my career, but now I can use my training to map out the potential depositional history of an entire area. We never have all the information, so we have to put a lot of pieces of the puzzle together to map it out. Essentially, I get to use my knowledge to explain the history of the Earth from millions of years ago, and that is just beyond fascinating to me."
Mentors bring professional experience and a different perspective
"My mentor helped me so much over the past year, supporting me throughout my work terms and as I transitioned back to school. I am so glad I decided to be an APEGA mentee."
Morgan applied for APEGA's mentorship program to seek advice from someone who could help her piece together a career in geosciences. Not only did she have technical questions about what it was like to work for an oil and gas company, but she was also specifically looking for someone with a similar academic background. APEGA's mentorship software helped her find the perfect match.
"He gave me a lot of insight into how I could approach my work projects as well as how to navigate the industry. Having completed a master's himself in the exact same field, he also gave me lots of advice for completing my own program. He also provided support and advice during a very unprecedented and unpredictable time."
Interested in becoming a mentor or a mentee?
Applying is quick and easy! Find out your eligibility and apply today.