Mentee Profile: Mark David Gonzales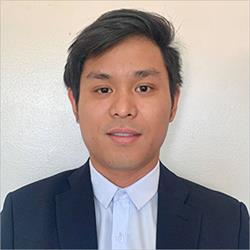 Employment Status
Shop Foreman and Technician,
Wolseley Industrial
APEGA
Designation: E.I.T.
Mentee since January 2021
Employer
Wolseley Industrial
Education
Bachelor of Science in Civil Engineering, Don Honorio Ventura State University (2015)
Generations of Grit
Determination drives engineer-in-training Mark David Gonzales.
He grew up in Magalang, Pampanga, the culinary capital of the Philippines, surrounded by languid palm trees and expansive shopping malls.
Mark has always been hyper-focused—on his grades, on earning an opportunity to attend university, and on making his family proud. He knew post-secondary education was only possible with a scholarship, so he resolved to earn one.
"It was pure hard work—you don't want to lose that scholarship. I needed to do my best," he stresses.
As it turns out, he didn't need to worry. He graduated from Don Honorio Ventura State University in 2015 with his bachelor of science in civil engineering.
A Tradition of Resolve
For most of his childhood, Mark's mother lived a world away from him—in Grande Prairie, Alta.—working to support her family back home. "I wanted to work hard so her efforts weren't wasted," he explains.
When Mark was accepted into the engineering program, his mother began the process of sponsoring him to come to Canada, where he could put his degree and determination to good use.
Their dreams came to fruition when Mark moved to Grande Prairie in 2013.
He went home to the Philippines for a year in 2014 to finish his degree. Returning to snowy Canada, Mark found a good winter coat and his footing in the industrial sector, working as a valve technician at Wolseley Industrial. He wanted to find an engineering position, but wasn't sure where to begin.
In 2020, he was scrolling through LinkedIn and read a post promoting APEGA's mentoring program and decided joining would be a good start. He matched with his mentor in October and began applying for jobs shortly after.
A Practice of Patience
Mark says his mentor helped him improve his résumé, suggested software to learn on his own, and reminded him that patience is part of the job-search process.
"He helped me distinguish what I needed to do better to be better. He said sometimes you cannot control everything, no matter how many applications you put in, so keep pushing. There will be that one company that's the perfect fit for me."
Inspired by a culvert and bridge renovation project in school, Mark says he'd love to get into project management. He has a passion for structural design, but he's excited by any opportunity to put his skills to use. He's grateful to his mentor for giving him a clear direction into the world of engineering, where his determination will surely serve him well.
Read more about APEGA's mentoring program and check out professional development opportunities such as APEGA's Nexus Conference.
Interested in becoming a mentor or a mentee?
Applying is quick and easy! Find out your eligibility and apply today.