Medicine Hat Branch PD Event: Combine Harvesters and their Functions
5:30 pm - 8:30 pm
Register by September 17, 2019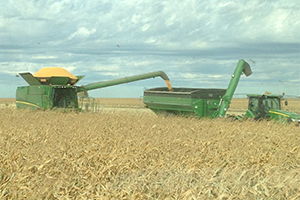 Have you ever seen a combine harvester working in the vast grain fields of Alberta in August and September and wondered how that machine works?
Come and find out! This evening will include:
a history on the engineering development of the combine harvester and how modern machines are developed and tested
a review of the sub-assemblies of the combine and how those assemblies control the different processes required to harvest grain
a discussion on the precision agricultural technologies found on today's combines and how those technology options collect agronomic data
how today's farmers analyze that data to make informed management decisions and improve their farming decisions
There will also be a new combine present during the presentation, so it is a great opportunity to get up close to the machinery.
The event will be hosted in the service department of Cervus Equipment, so please bring steel-toe footwear and safety glasses. It is possible that we will be outside for parts of the event, so please bring outerwear as well.
About the Presenter
Zach Martin, P.Eng., is a sales representative for Cervus Equipment and has 9 years of experience in the agricultural machinery industry. He spent 4 years with an original equipment manufacturer, serving as one of their engineering R&D field testing supervisors and product support specialist, and has spent the last 5 years with a dealership group performing both product support and sales.
Where

Cervus Equipment

Hwy 873 North of Brooks

Brooks, AB T1R 1B7
See on Google maps

Date

September 18, 2019

Time

5:30 to 8:30 p.m.

Speaker

Zach Martin, P.Eng.

Cost
$20
(includes pizza and non-alcoholic beverages)
Registration Deadline

September 17, 2019