Medicine Hat Branch Webinar | APEGA Requirements for Registration
Register by March 28, 2023
Do you wonder what you need to know for your professional membership as an engineer or geoscientist in Alberta? Do you want to hear more about the application process and next steps to help set you up for success? Join us for a talk by an APEGA representative who will answer any questions you have about your engineering, geoscientist, or professional licensee designation application process.
This webinar also includes a question-and-answer session with an engineer-in-training currently going through the application process and a newly licensed engineer. Come to learn and ask about their recent experiences with the APEGA application process.
Please note: this event is open to those who work or live in the Medicine Hat Branch area.
Objectives:
Knowledge of the Engineering and Geoscience Professions Act
Understanding of the licensure requirements for the different APEGA designations and licences
Takeaways:
Overview of the Canadian engineering and geoscience licensing system
Understanding of APEGA and its mandate
Overview of the different APEGA licences and designations
Overview of the APEGA engineering, geoscientist, and professional licensee designation application process
For any questions about this event, please contact [email protected].
About the Presenter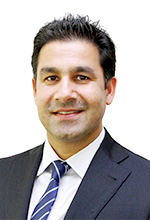 Enayat Aminzadah joined APEGA in 2014 in the Registration Department. He helps engineering and geoscience applicants navigate the licensing process in Alberta and provides guidance to applicants on articulating work experience in a relevant manner. Enayat's professional background has revolved around academic credential evaluation, professional regulation, and economic immigration. Enayat is based in Edmonton but his work at APEGA takes him all over the province.
Speaker:

Enayat Aminzadah

Cost:

Free

Eligible CPD Hours:

1.5

Registration Deadline:

March 28, 2023