Lethbridge Branch AGM & Speaker | Reflections on a Career in Space Astronomy
Register by March 7, 2023
From a rather lazy choice for an undergraduate experimental physics project to a PhD in atmospheric physics to a research post-doctoral position at the European Space Agency that ultimately led to representing Canada in the Infrared Space Observatory (ESA), AKARI mission (JAXA), Herschel Space Observatory (ESA), SPICA mission (ESA-JAXA) and now the NASA PRIMA mission, Dr. David Naylor will reflect on a highly rewarding yet unplanned career path. Although the journey has been non-linear, there have been many constants, notably the friendships made along the way, the important role of both mentors and students, and the ever-changing technology horizon. Dr. Naylor will give examples of how the continuing tension between physics, with its learn-by-failing approach, and engineering, with its inherent risk-averse nature, benefited both disciplines.
Following the presentation, the annual general meeting of the Lethbridge Branch will be held.
For any questions about this event, please contact [email protected].
About the Presenter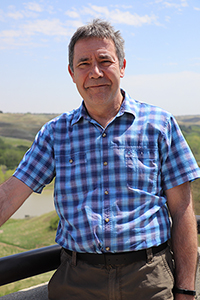 A Commonwealth Scholar, Dr. David Naylor received his PhD in physics from the University of Calgary. Following a post-doctoral fellowship as a European Space Agency Fellow in ESTEC, Noordwijk, he joined the department of physics at the University of Lethbridge in 1981. Over the last 41 years, he has established an internationally recognized research program in the area of astronomical instrumentation, specializing in the design and use of infrared and submillimetre Fourier transform spectrometers and radiometers in a variety of astronomical applications. He has held several prestigious research fellowships: European Space Agency (ESTEC), NATO International Fellow (University College London), Smithsonian Fellow (Smithsonian Institute Washington), and the Perren Fellow (Queen Mary College London).
David is the director of the Astronomical Instrumentation Group and co-founder of the Institute for Space Imaging Science. David
was the Canadian PI on both ESA's Herschel/SPIRE mission and the ESA/JAXA SPICA mission and is currently working towards
establishing a lead role for Canada in the NASA PRIMA probe mission. He has co-authored more than 350 refereed publications and
attracts significant external funding. Two of the instruments he co-developed have been successfully deployed in space. The flight
spare of one of them can be found in the

Science Museum

London, and another is on permanent display in the National Museum of Scotland in
Edinburgh.
Speaker:

David Naylor, PhD

Cost:

Free

Eligible CPD Hours:

1.5

Registration Deadline:

March 7, 2023