Virtual Workshop | Building Connections with Questions
Register by February 27, 2023
Join this interactive virtual workshop with speaker Shannon Price as she shares best practices for developing meaningful and productive partnerships in mentoring. Focusing on curiosity and asking better questions, you will explore how questions can shift a conversation and empower others. Come curious and ready to practise and connect with other attendees.
Although offered to our mentoring partners, this workshop will equip you with skills and strategies for elevating any conversation: supervisor/employee, teacher/student, and interdepartmental collaborators at work.
This 90-minute workshop includes opportunities to practise in small virtual rooms, using Zoom. Attendees must have access to a good wireless connection and be able to use a microphone and webcam.
About the Speaker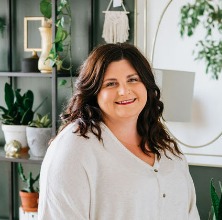 Shannon Price is a certified executive coach. She has spent her career supporting people and organizations moving through hard things. Shannon spends much of her time developing and delivering leadership training and team-building sessions rooted in enriching organizational culture—supporting organizations, teams, and individuals. She is currently a casual instructor at NAIT and NorQuest leading learning in the areas of leadership, facilitation, communication, and emotional intelligence.
Her approach to facilitation, programs, and engagement is based in building connection and trust, holding individuals capable, and empowering all to find the ways forward. Her focus is always on building relationships, being authentic, and understanding stakeholder perspectives.
Shannon's experience in change management and program development and working across industries—insurance, public sector, post-secondary education—supports her work in organizational design and culture. Understanding why something is done and how it can be made better gets her excited.
Speaker:

Shannon Price

Cost:

$75+GST

(Post-secondary students may register for $50+GST)

Eligible CPD Hours:

2

Registration Deadline:

February 27, 2023