Medicine Hat Branch Luncheon | Water: Social, Environmental, & Economic Benefits
Register by February 24, 2023
The South East Alberta Watershed Alliance (SEAWA) is one of eleven watershed planning and advisory councils (WPACs) in Alberta. SEAWA is a multi-stakeholder, volunteer-based, not-for-profit society, incorporated in 2008 and designated as a WPAC by the Government of Alberta in 2010.

The Government of Alberta, through Alberta Environment and Parks, partners with WPACs to help achieve the three goals of the provincial policy Water for Life – Alberta's Strategy for Sustainability.

The three goals are:

1. healthy aquatic ecosystems
2. reliable, quality water supplies for a sustainable economy
3. safe, secure drinking water
Environmental stewardship is best practised or implemented on a watershed unit basis. Water is the integrating medium of the impacts of human activities on the natural environment. Sustainable water resources are a direct result of a healthy watershed.

Because of this, WPACs were implemented to help achieve the goals of Water for Life. With the province broken into eleven major watersheds, each with its own WPAC, the uniqueness of each region can be addressed to ensure its health, and thus the health of the province as a whole.
For any questions about this event, please contact [email protected].
About the Presenter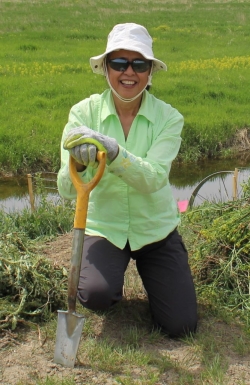 Marilou Montemayor, P.Ag., joined SEAWA as its executive director on April 1, 2016. Marilou has worked in Alberta since 2007, and with watershed planning and advisory councils (WPACs) since 2009. Prior to joining SEAWA, Marilou worked with three other WPACs: North Saskatchewan Watershed Alliance, Athabasca Watershed Council, and the Red Deer River Watershed Alliance. She has considerable experience in implementing WPAC projects, such as the State of the Watershed Report, the Integrated Watershed Management Plan, communication plans and public consultations, and riparian areas restoration.
She has experience building volunteer organizational capacity and helped in the formation of the Vermilion River Watershed Alliance. Marilou completed a master of environmental studies degree from the University of Waterloo and a bachelor of science degree (environmental and resource sciences) from Trent University. She has scientific and field experience in peatland restoration; wetlands and riparian areas ecology, hydrology, and management; and surface water quality assessment. She has published in peer-reviewed, international scientific journals. Marilou has a deep admiration and passionate interest in the ecology of Alberta's five natural regions and has worked in all but one: Boreal, Foothills, Parkland, and Grasslands. Marilou also has overseas degrees in agriculture, and she has agricultural development work experience in developing countries.
Where:

Cypress Club
218 6th Avenue S.E.
Medicine Hat, Alberta T1A 2S5

Speaker:

Marilou Montemayor, P.Ag.

Cost:

$25

Eligible CPD Hours:

1.5

Registration Deadline:

February 24, 2023