Webinar | How Stress and Burnout Impact Your Health: Self-Care Practices
Register by October 23, 2022
Our stress levels have fluctuated many times during this pandemic, impacting work and family life. Mental health resources remain in high demand as we resume pre-pandemic routines. This dynamic two-hour presentation clarifies common misunderstandings about self-care and the different types of stress, providing tools to activate healthy brain chemistry.
During the pandemic, our coping skills have been maximized for a long period of time. We have constantly adapted and re-adapted, which requires a lot of energy. This webinar shares mental wellness practices you can use several times per day, every day, to function at your best. You will have access to Clear Mental Health's free booklet, which includes a resource guide, recovery tip sheet, reading list, and worksheets to customize a wellness plan that fits you.
Learning objectives
How the World Health Organization defines mental health, self-care, and burnout, as well as why common misconceptions about these three topics exist

How to describe key brain activities related to good health, as well as construct an individualized plan to maintain your mental well-being with stronger coping skills

How to recognize the impact of toxic stress on the body and proactively manage health problems
After this presentation, you will have the skills and tools in your post-pandemic life to manage and recover from prolonged stress, as well as develop a fresh routine.
This session will be held through ON24.
For any questions on this session, please contact [email protected].
This session, made possible by Thurber Engineering Ltd., is part of APEGA's Building Mental Health Together series.
About the Speaker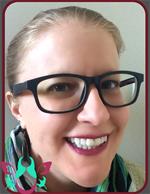 Elaine Benacchio (she/her), MEd, is a passionate presenter and enthusiastic educator with a strong background in supporting priority populations. Using her formal training in psychology, education, disability studies, and social work, she has advocated for vulnerable people for two decades. She regularly teaches mental health first aid classes with the Mental Health Commission of Canada, as well as opioid poisoning response training workshops with St. John Ambulance. A strong and engaging public speaker, she challenges outdated thinking while providing tangible suggestions for each learner.
Speaker:

Elaine Benacchio, MEd

Cost:

Free

Eligible CPD Hours:

2

Registration Deadline:

October 23, 2022