Webinar | The ABCs of Digital Signatures: Everything You Wanted to Know From Adobe to Bluebeam to ConsignO Desktop
Register by October 17. 2022
One of the key challenges of a successful digital transformation is the ability to manage the workflow of documents and understand how the technology and standards function. This advanced session is designed for digital signature subscribers that have installed the required software elements, have a digital signature activated, and are looking to begin using ConsignO Desktop to view, prepare, and sign electronic records. We will also take this opportunity to show how to prepare and sign documents with Adobe Reader DC and Bluebeam Revu.
Learning objectives:
configure images of a seal or signature for Adobe, Bluebeam, and ConsignO Desktop PDF readers
basic demonstration of capabilities of signing documents in Adobe and Bluebeam
in-depth review of how to sign documents individually, merge files, or prepare and sign multi-page documents
sign data files like DWG or alternate electronic formats using ConsignO Desktop
review certain principles of the PDF/A standard
provide an overview of the technological boundaries associated with digital signature cryptography
short Q&A
Recommended prerequisite:
Have completed the introductory webinar: What is a Digital Signature?
Please note that we will not address elements of how to sign up or the technology behind digital signatures.
For any questions about this event, please contact [email protected].
About the Presenter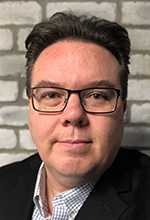 Marc St-Jacques holds a bachelor's degree in communication studies and has been working in the field of information technology for the past 20 years. Specialized in digital authentication solutions since 2009, Marc has personally assisted thousands of professionals to become more proficient in the digital authentication of electronic drawings.
Corporate Overview
Notarius has been a leading expert in trusted electronic signatures, digital signatures, and long-term document reliability since 1998. Notarius is the only Canadian firm that issues trusted signatures recognized by Adobe (Adobe Approved Trust List – AATL) and eIDAS, the European regulation on electronic identification and trust services for electronic transactions. Notarius is an environmentally responsible, certified carbon-neutral business that holds ISO 27001 and ISO 9001 certifications.
Speaker:

Marc St-Jacques

Cost:

Free

Eligible CPD Hours:

2

Registration Deadline:

October 17. 2022