Webinar | Data Analytics for Managers: Engineers and Geoscientists
Register by October 5, 2022
Business data analytics is a way to improve business decision-making. Data analytics involves analyzing data sets to identify patterns and trends and generate insight that can feed into informed organizational decision-making. Analytics is a process that helps transform data into action by analyzing data in the context of organizational problem solving and decision-making.
Data analytics techniques and tools are used in different organizations to enhance management of projects, operation and supply chain, manufacturing, human capital, financial and marketing activities, and many other areas. One of the benefits of data analytics is operation optimization, resulting in increased profit. This can be achieved by better forecasting, reducing downtime, improving capacity utilization, streamlining production processes, and improving productivity and efficiency.
Organizations can take advantage of the new self-service analytics by training their employees, which enables businesses to make more effective decisions faster and cheaper through their employees. Achieving business goals by obtaining insight from the available operational and project data and sharing the relevant insight with other employees enables informed and effective decision-making, resulting in better performance and operational or project efficiency.
An analyst questions and analyzes everything and shares the findings with the team using analytics techniques such as data visualization (it's an old saying that a picture is worth a thousand words). This session helps project managers and engineers apply business analytics in their projects and operations to improve decision-making, leading to enhanced performance and productivity.
For any questions regarding this session, please contact [email protected].
This session will be held over Zoom.
About the Speaker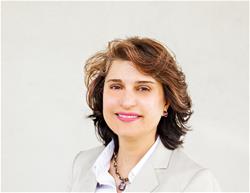 Haideh Farahmand, P.Eng., has more than 20 years of experience in academia and industry. Haideh teaches business analytics, project management, organizational behaviour, supply chain management, and business strategy. Haideh has worked as a manager for integration, operational excellence, at Suncor Energy. She also has worked in various project management roles at Petro-Canada and Fluor Canada. Haideh was assigned an additional role at Suncor Energy as the program manager for the Engineers-in-Training (EIT) Program and served as a member of Suncor's talent council. Haideh was a finalist in Suncor Energy's President Operational Excellence award in 2012 and 2013 in recognition of her contributions to the improvement of the EIT Program and the development of the enterprise gap closure plan. Haideh holds an M.Sc. in project management from the Schulich School of Engineering at the University of Calgary and is currently pursuing a doctorate in business administration at Athabasca University.
Speaker:

Haideh Farahmand, P.Eng.

Cost:

$250.00

Eligible CPD Hours:

8

Registration Deadline:

October 5, 2022