Webinar | Tactical Empathy
Register by September 27, 2022
Empathy is the ability to connect with your workforce without trying to fix, blame, or minimize the experience. Empathy is the competitive edge most leaders are missing. Individuals, teams, and workplace cultures value empathy, and leaders' demonstrated skills are not measuring up. Leadership demands empathy in various situations and must often be put into practice when emotions are high, pressure is mounting, and stress is palpable. It is in these very moments that our empathy abilities determine our impact as a leader. In this session, Erin Thorp, speaker and author of Inside Out Empathy, will explore the challenges leaders face when practising empathy. Erin will highlight the most common empathy misses and provide attendees with a toolkit of empathy practices they can implement immediately.
Learning objectives:
Develop an understanding of what empathy is and looks like
Build awareness of their own empathy "misses"
Opportunities to practise using real-life examples in small groups
Implement an action plan for continued development of empathy skills
About the Speaker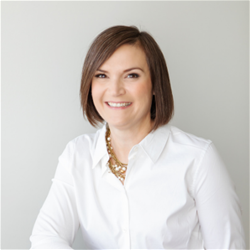 Erin Thorp, P.Eng., is an empathic keynote speaker, writer, and coach for leaders who struggle with conflict, communication, and performance during high-stress times. She supports leaders in navigating difficult conversations, building powerful teams, and communicating with empathy so they can lead confidently. Erin holds a bachelor of science degree in civil engineering from the University of Calgary and is an associate certified coach through Integral Coaching Canada. Having spent 20 years in the masculine-dominated engineering and construction industries leading teams and delivering projects, Erin had noticed that her colleagues were highly skilled and cared deeply about their work, but most were incapable of fully holding their own emotions and therefore unable to hold the emotions of others. In 2017 she authored Inside Out Empathy, a book inspired by her career and journey as a mother, and explores using the superpower of empathy to build effective teams.
Speaker:

Erin Thorp, P.Eng.

Cost:

$90.00

Eligible CPD Hours:

2

Registration Deadline:

September 27, 2022