Medicine Hat Branch Seminar | Elevating Safety Influence
Register by June 2, 2022
Safety Culture is the collection of beliefs, perceptions, and values that employees share in relation to risks within an organization. Positive culture is a combination of team and individual energy and motivation. As safety leaders, we need to realize that how we motivate others varies depending on the individual. Elevating Safety Influence is a one-day certificate training course to elevate the mindset of safety practices with your team and focus on improving team and individual safety. This course facilitates time-tested principles from authors and leaders such as John Maxwell, Dave Fennel, Maslow, Heinrich, Daniel Coyle, as well as Amy Zuk's 20+ years of experience in industry as a safety influencer and leader/team coach.
Course outline:
Personal values and motivations for safety
Understanding different personality styles
REAL Safety Success

Relationships & building connections
Equipping our teams in safety
Attitudes (safety is all about attitude)
Safety leadership

Levels of competency and how complacency can occur
Risks assessment & Maslow's hierarchy of needs (high level discussion)
Risk tolerance: realizing we are all different and why
Course outcomes:
Heightened personal motivation to elevate safety
Increased awareness on indirect impacts of an incident
Increased awareness on effects of complacency
Being a safety influencer within the organization
Elevate team safety communication
Improved safety relationships
Participants will receive a training manual and safety achievement certificate.
Please note that this event does not include lunch. Options include: bring your own lunch, purchasing from the Co-op or by express order from Rusty's on the day of the event.
Thank you to The Personal for sponsoring this event to provide a reduced rate for all attendees.
About the Presenter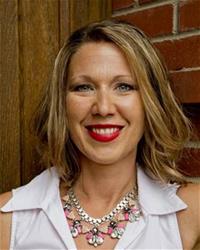 Amy Zuk,
founder and co-owner of F&S Safety Buzz Ltd and president of Elevate Leadership is a business leader, safety enthusiast, volunteer, and most importantly a family girl. Amy has spent nearly the last 20 years as a safety coach impacting and enhancing thousands of people's mindsets towards safety and development. Whether it's in the classroom, as a keynote speaker or coaching, her passion is for everyone to live the most fulfilled, healthy, and safest life possible.
Amy was born and raised on a mixed farm near Bonnyville, Alberta. Amy sometimes jokes that some of the shortcuts she witnessed on the farm were what led her to safety. She is blessed with various backgrounds of work experience such as farming, working as a labourer, a fourth class power engineer, and an oilfield operator. It was Amy's experience in the oilfield that brought her to the realization "there are much safer ways to do things!" While sitting in on an H2S class, Amy loved the training course so much she said "I would love to be part of influencing people's safety"... so she did! That created the start of Safety Buzz in 2004 and F&S Safety Buzz in 2018. In 2016, Amy became a John Maxwell certified speaker, trainer, and coach to elevate her leadership skills and add value to others. Amy has had the enjoyment of presenting motivational messages to clients such as Canlin Energy, Methanex, City of Medicine Hat Natural Gas Department, Ember Energy, many agricultural societies, and Canadian Society of Safety Engineers to name a few.
Amy loves to give back to the community, work with like-minded people, and help those that could use a little boost. Amy volunteers with many organizations. Amongst her favorite are Safety City, HALO & Canadian Society of Safety Engineers.
Where:

Safety Buzz Campus
350 Eagle Butte Road
Dunmore, AB T1B 0K2

Speaker:

Amy Zuk Founder & Co-owner of F&S Safety Buzz Ltd & President of Elevate Leadership

Cost:

Admission: $100

Eligible CPD Hours:

5.5

Registration Deadline:

June 2, 2022