Webinar | APEGA Requirements for Registration
Register by January 20, 2022
Do you wonder what you need to know for your professional membership as an engineer or geoscientist in Alberta? Do you want to hear more about the application process and next steps to help set you up for success? Join us to hear a representative from APEGA talk and answer any questions you may have about your engineering / geoscientist / professional licensee designation application process.
Any individual practicing engineering or geoscience in the province of Alberta needs to be registered as a professional member with APEGA. The application process and the requirements for registering can be daunting or complex to individuals. This session will cover the requirements for registration, including the new competency based assessment process (CBA) that features a standardized way of measuring engineering experience for applicants applying for professional engineer or engineering licensee designations.
An APEGA representative will conduct an engaging Licensure process session and will cover the following topics:
What are APEGA registration requirements?
Details of academic requirements?
Details of experience requirements?
What is the concept of CBA? What is the CBA process for registration with APEGA?
What are the various licenses and designations APEGA offers?
About the Speaker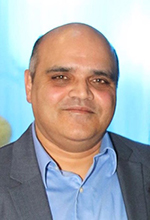 Amit Banerjee is the Director, Registration Operations at the Association of Professional Engineers and Geoscientists of Alberta (APEGA), based out of Edmonton. All individuals and companies seeking registration to practice engineering and/or geoscience in Alberta must apply through the Registration department. APEGA receives over 5000 applications per year, 25-30% of those are from internationally trained applicants. In this role, Amit manages a team of around 30 people to deliver the Registration programs of APEGA. Amit also works closely with the other Canadian jurisdictions on various national initiatives related to regulation of the engineering and geoscience professions. Prior to joining APEGA in June 2016, Amit spent over 15 years working for the Provincial Government of Alberta (Ministry of Environment) and the Alberta Energy Regulator, where his focus was on the environmental regulation of industrial and municipal activities.
Amit holds an undergraduate degree in Chemical Engineering from India, and a couple of Master's degrees in Environmental Engineering from the University of Manitoba and the University of Alberta. Amit is passionate about community service and volunteers with several community organizations.
Where:

Virtual

Speaker:

Amit Banerjee, P.Eng.

Cost:
Eligible PDH:

1

Registration Deadline:

January 20, 2022