Webinar | Leading By Intent: How to Create A High Reliability Organization
Register by November 30, 2020
Simply stated, leadership is about inspiring the human connection to achieve excellence and win. Leaders do this by solving problems at every level of the organization. With the strong belief that everyone is a leader – we discuss the importance of leading with intent: the intent of the organization, your culture, and people. Leading by intent empowers those working in organizations with centralized strategic planning to make disciplined decisions with freedom and speed of action. When the intent is clear, shared and understood by all – it becomes easier to lead, inspire, and empower. Middle level leaders are the backbone of most organizations as they need to balance the demands of those they lead on the front line - while inspiring and maintaining the values, principles and direction of the organization.
Learning Objectives:
Understanding the principles of high reliability organizations
Intent at the corps of decision making
Ensuring responsibility is clear by communicating intent
About the Presenter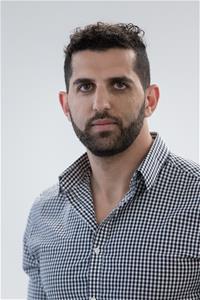 Justin is a lifelong student of leadership who is fascinated with the notion of what makes people respond and react to other human ideas, suggestions, and commands. He is the director of All Around Consulting – providing leadership and team development guidance to businesses and emerging leaders.

After graduating from MacEwan University with a B.A in Political Science, Justin worked as a Public Affairs Officer writing communication strategies and speeches for the Government of Alberta. He always had the urge to serve abroad as a Canadian Forces Solider. In 2012, after a grueling ten-month course, Justin joined the Canadian Special Operations Regiment (CSOR) as a Special Forces Operator. He deployed to multiple regions including North Africa, the Middle East and Caribbean. Justin was awarded the Bravery Medal by the Governor General for his actions during an international operation. He was also awarded a Commanders and two Task Force Commanders Citations for his team work and leadership during his operations.
He currently develops and facilitates Leadership courses at MacEwan University and NAIT in Edmonton, Alberta. As a Leadership Consultant, Justin works with high reliability organizations and frontline leaders to enhance the human connection by emphasizing the importance of empathy, courage and self-sacrifice when leading others. Leaders solve problems – Justin's approach is to simply empower and encourage leaders and organizations to inspire people to solve problems by creating a culture of accountability and ownership.
Speaker:

Justin Yaassoiub

Cost:

Members: $70.00

Non Members: $75.00

Eligible PDH:

1.5

Registration Deadline:

November 30, 2020