Calgary Branch Luncheon: Creating Value from Waste in Alberta's Oil Sands
Register by December 8, 2019
The treatment of oil sands tailings is one of the most difficult environmental and operational challenges facing the mining oil sands sector. Tailings from the secondary extraction froth treatment (FT) process contain lost bitumen, solvent, and valuable minerals. The release of the hydrocarbons to ponds results in methane and volatile organic compound emissions. Titanium Corporation's patented suite of Creating Value from Waste (CVW) technologies—a trademarked process described as transformational by Canadian Natural Resources Limited—are designed to intercept FT tailings as they exit facilities, recover and recycle the lost hydrocarbons, improve the quality of the residual tailings for remediation, recover the minerals, and create a new minerals export industry for Alberta.

Titanium Corporation and Canadian Natural Resources Limited recently completed front-end engineering design for implementation of CVW at the Horizon site and are now working toward project sanctioning. The Canadian and Alberta governments have been highly supportive of the development of Titanium's technologies, providing $20 million of grant funding to date and recently announcing a further $50 million toward the commercial project at Horizon.

This presentation will describe the CVW technology and its benefits and provide an overview of the development pathway.
About the Presenter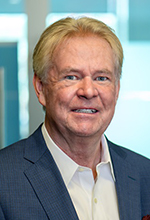 Scott Nelson is the President and Chief Executive Officer of Titanium Corporation, an Alberta-based company that has developed Creating Value From Waste (CVW) technology, which is designed to recover valuable lost commodities from oil sands waste tailings streams and reduce environmental impacts. A significant new minerals export industry will be created to meet growing world demand for zircon and titanium. Scott assembled and led the Titanium Team through research and development and demonstration piloting to the completion in 2019 of site-specific engineering to bring this game-changing technology to the market place.

Prior to joining Titanium Corporation in 2005, Scott held senior executive positions in the energy and technology industries in Canada and internationally, including president of Hess Corporation's Canadian business unit, chairman of London-based Eurosov Energy PLC, and senior management roles with IBM Canada, Amoco Petroleum, Dome Petroleum, and Irving.
Schedule
Registration: 11:15 a.m.
Lunch: 11:45 a.m.
Presentation: 12:15 p.m.
Where:

Fairmont Palliser 133 9 Ave SW Calgary, AB T2P 2M3

Speaker:

Scott Nelson, President and CEO, Titanium Corporation

Cost:

Member: $50
Non-member: $60
Student: $25

Registration Deadline:

December 8, 2019
Register Now