Emerging Professionals Summit –
Full Conference Schedule
A Virtual Experience | September 17, 2022
How do you equip yourself with the right skills and knowledge to start your career off strong?
What are the skills you need as an emerging professional?
What can you expect to see at the 2022 Emerging Professionals Summit? The Emerging Professionals Summit will consist of educational and networking opportunities for university students, members-in-training, and young professional members of APEGA.
We've got our full schedule below, including our featured speakers! More information will be added as we confirm it so be sure to check back later.
9:00 a.m. – 9:15 a.m. MDT
Sign-in and welcome address

9:15 a.m. – 10:15 a.m. — Opening Keynote

Doom & Bloom: Envisioning a Better Future with Ziya Tong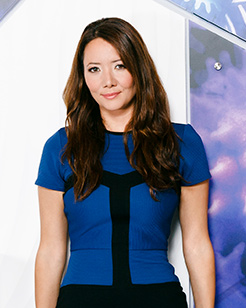 Are we doomed?
Activist and author Ziya Tong argues that we are not. At least, not yet. From the latest science to the most innovative technologies, Tong shows us that there is a way out of the environmental crisis we face.
She argues that in the past, humanity has been confronted with much greater perils, but has always found ways to unite and stand up to the challenge.
This uplifting talk will ground the audience with courage, a new vision, and the knowledge that we do have the capacity and power to turn things around.

This session is sponsored by

About Ziya Tong
Award-winning host Ziya Tong has been sharing her passion for science, nature, and technology for almost two decades. Best known as the co-host of Daily Planet, Discovery Channel Canada's flagship science program, she brings a wealth of knowledge, experience, and enthusiasm to the stage. Tong speaks on leadership, how to shift perspective, and the role of science and technology in society in her riveting and eye-opening talks.
Before co-hosting Daily Planet, Tong served as host and field producer for PBS's national primetime series Wired Science, produced in conjunction with Wired magazine. In Canada, Tong hosted CBC's Emmy-nominated series ZeD, a pioneer of open-source television, for which she was nominated for a Gemini Viewers' Choice Award. Tong also served as host, writer, and director for the Canadian science series The Leading Edge and as a correspondent for NOVA ScienceNOW alongside Neil deGrasse Tyson on PBS. In the spring of 2019, she participated in CBC's annual "battle of the books." After a national four-day debate, she won Canada Reads.
In May 2019, Tong released her bestselling book The Reality Bubble. Called "groundbreaking" and "wonder-filled," the book has been compared to The Matrix. It takes readers on a journey through the hidden things that shape our lives in unexpected and sometimes dangerous ways. Tong also won CBC Canada Reads that year for defending Max Eisen's holocaust memoir, and her own book was shortlisted for the RBC Taylor Prize in 2020.
Tong received her master's degree in communications from McGill University, where she graduated on the dean's honour list. She currently serves on the board of directors of the World Wildlife Fund and is the founder of Black Sheep.
10:15 a.m. – 10:30 a.m.
Rejuvenation break

10:30 a.m. – 11:45 a.m. — Breakout Sessions
An overview of Branches, Member Benefits & Membership Services at APEGA.

Project Everest is an engaging visual and educational experience that highlights the mindset, commitment, and passion involved in reaching new heights in our professional and personal lives. It is built around the two years of planning and two months of climbing that went into making the goal of reaching the summit of Mount Everest a reality for Alan Mallory and three members of his immediate family.

Considered one of humanity's greatest feats of physical, mental, and emotional endurance, the exciting expedition to the top of the world's highest peak is a journey filled with unparalleled challenges through some of the roughest, most extreme conditions imaginable. The powerful strategies and skills that contributed to this achievement, especially during the intense and at many times critical situations, can be applied to all aspects of life.


This session is sponsored by Fluor

About Alan Mallory, P.Eng.

Alan Mallory is an international speaker, author, and performance coach who is passionate about leadership and reaching new heights in all that we do. His unique philosophy of life revolves around empowering people and embracing an agile mentality focused on relationships and results.

By understanding what drives and motivates us, we are able to cultivate more innovative and effective ways of thinking and taking action. Mallory holds a degree in engineering from Queen's University and a master's degree in psychology from Adler University, giving him a well-balanced approach to the outer and inner challenges we all face. He has worked internationally with large organizations as a professional engineer and project manager developing patents and solutions to complex challenges in the mining and metals industry.

Building experience through a lifestyle of adventure and challenge, Mallory embarked on the project of a lifetime and set a world record on Mount Everest along with three members of his immediate family. It was a two-month expedition through some of the most exciting yet terrifying conditions imaginable, and their success demanded an unwavering perseverance and resilience in the face of adversity.

Every job contributes to your career, skill development, and marketability. Understanding that YOU are responsible for your growth, career development, behaviour, and career success is a valuable outlook and is important for your career success. Throughout your career, you will:

use technical skills related to and needed for your role
use professional skills needed in the workplace
acquire transferrable skills, which are helpful when changing industries or professions
need to have and use career management skills to thrive throughout your career and protect your ability to earn

In this workshop, you will learn which skills and strategies you need to successfully manage your career, identify the career management skills you already have, and determine which skills you need to develop.


This session is sponsored by Fluor

About Lise Stransky


A two-time presenter at the Emerging Professionals Summit, Lise Stransky is excited to return in 2022 to deliver the workshop Becoming Job Smart: Skills to Successfully Manage Your Career .

Stransky has had many roles in her career, including university recruiter, brake pad specialist, travel writer, volunteer, student, mother, career adviser, and sandwich artist. She discovered the field of career development 17 years ago and hasn't looked back since. As a certified career development professional, she helps her clients manage the lifelong process of career and career decisions.

Stransky identifies as a woman (she/her) and a white settler raised in a colonial system. With this lens, a BA in English, a postgraduate certificate in career development, and a voracious appetite for lifelong learning, she helps people of all ages and stages with career decisions and job-search strategies.

Stransky has her own career-advising business, Careers That Work For You, and manages a portfolio career—she has income streams from different contracts instead of having one full-time job. She also provides one-on-one career advising to clients and facilitates workshops for different organizations. Prior to launching her portfolio career, she worked for the University of Guelph, Certified General Accountants Alberta, University of Calgary Career Services, and as a travel writer for the Canadian Automobile Association.
11:45 a.m. – 12:30 p.m.
Lunch break

12:30 p.m. – 1:45 p.m. — Breakout Sessions
Do you know what you need to do to become a professional engineer or geoscientist in Canada? Do you want to learn more about the application process and the next steps to set yourself up for success? Join representatives from across Canada for discussions on the application processes to become professional engineers, professional geoscientists, or professional licensees. You'll also have the opportunity to ask questions.

Session Details

These engaging licensure process sessions will cover the following topics:

registration requirements
the professional obligations of a professional member according to the Engineering and Geoscience Professions Act
academic requirements
the concept of CBA used in some provinces in Canada

These engaging presentations from the following regulators across Canada will allow for you to learn about the registration processes in individual sessions:

APEGA requirements for registration with Enayat Aminzadah
Ontario requirements with Tracey Caruana, P.Eng., and Sami Lamrad, P.Eng., M.Eng.
Yukon requirements with Amit Banerjee, P.Eng.
British Columbia requirements with Caroline Westra, B.Eng.

About Enayat Aminzadah

Enayat Aminzadah joined APEGA's Registration Department in 2014. He helps engineering and geoscience applicants navigate the licensing process in Alberta and provides guidance to applicants on articulating work experience in a relevant manner. Aminzadah's professional background has revolved around academic credential evaluation, the professional regulatory arena, and economic immigration. He is based in Edmonton, but his work at APEGA takes him all over the province.

About Caroline Westra, B.Eng.

Caroline Westra has bachelors degrees in physics and mechanical engineering. She is responsible for overseeing the Professional Licensee Program and experience assessments for all engineering applications and is involved in the development and implementation of process improvements.

She has spent the last twenty years helping applicants get registered and has been involved in outreach describing the registration process to potential applicants, including internationally trained professionals.

About Tracey Caruana, P.Eng.

Tracey Caruana is a professional engineer with a degree in mechanical engineering from McMaster University. She joined Professional Engineers Ontario (PEO) in January 2014 in the role of EIT coordinator, and has since moved into the position of manager, Engineering Intern Programs. Prior to joining PEO, Caruana worked at Hatch Ltd. for nine years, gaining exposure to numerous projects within the mining industry. She worked as a piping engineer for seven years and in management consulting for the remainder.

In the role of manager, Engineering Intern Programs, Caruana is responsible for providing guidance and support for the EIT Program, the Student Membership Program, and the Licensure Assistance Program. She is also the staff advisor for PEO's 30 by 30 Task Force.

About Sami Lamrad, P.Eng., M.Eng.

Sami Lamrad is a professional engineer with a bachelor's degree in chemical engineering from Western University and a master's degree from Ryerson University. He joined Professional Engineers Ontario (PEO) in May 2015 in the role of licensing representative, where he ensured all applicants met the experience criteria to be licensed as professional engineers. In his latest role as engineer-in-training and student program coordinator, he is facilitating the Engineering Intern Program and the Student Membership Program as part of PEO's external relations activities. This requires him to travel around the province to meet and present to an array of stakeholders.

Prior to PEO, Lamrad worked in environmental consulting, designing and commissioning data acquisition systems for continuous emissions monitoring systems. He travelled extensively to extremely remote engineering sites all over the world.

Amit Banerjee, P.Eng.

Amit Banerjee is the director of registration operations at the Association of Professional Engineers and Geoscientists of Alberta (APEGA), based out of Edmonton. All individuals and companies seeking registration to practise engineering and geoscience in Alberta must apply through the Registration Department. APEGA receives over 5000 applications per year, and 25-30% of those are from internationally trained applicants. In this role, Banerjee manages a team of around 30 people to deliver APEGA's registration programs. Banerjee also works closely with the other Canadian jurisdictions on various national initiatives related to regulation of the engineering and geoscience professions. Prior to joining APEGA in June 2016, Banerjee spent more than 15 years working for the Government of Alberta (Ministry of Environment) and the Alberta Energy Regulator, where his focus was on the environmental regulation of industrial and municipal activities.

Banerjee holds an undergraduate degree in chemical engineering from India and master's degrees in environmental engineering from the University of Manitoba and the University of Alberta. Banerjee is passionate about community service and volunteers with several community organizations.

As you make the transition from student to professional, you will face many different challenges: navigating office politics, asking for a raise or the next promotion, dealing with personal or professional conflict, positioning yourself to take on the next big project. What do all these situations have in common? To get the desired outcome, they require a mindset and a skill set you probably haven't been taught.

When we think about having challenging conversations, we're often faced with many questions.

How will I ever be heard?
How can I get my point across?
What do I have to do to make a difference?
How can I ever face that person again after what I said?
What do I do when things go wrong?

How you've handled conversations in the past doesn't have to be how you handle them moving forward. There is a better—and more confident—way.

Erin Thorp is an author, speaker, and coach for leaders who struggle with conflict, communication, and performance during high-stress times. Join her in this jam-packed session to explore:

how to identify what matters most
where you're getting stuck
intent versus impact
how to get a conversation back on track when it's spiraling out of control

During this session, you'll gain access to a concise framework to use in all conversations, insights into what's really going on inside your tough conversations, and access to the conversation planner Thorp uses with her clients to support them in implementing the knowledge and skills she'll share with you.

Attend this session so you can tackle all your tough conversations with confidence.

About Erin Thorp

Erin Thorp (she/her) is an empathic keynote speaker, writer, and coach for leaders who struggle with conflict, communication, and performance during high-stress times. She supports leaders in navigating difficult conversations, building powerful teams, and communicating with empathy so they can lead confidently.

During her 20 years spent leading teams and delivering projects in the male-dominated engineering and construction industries, Thorp noticed that her colleagues were highly skilled and cared deeply about their work, but most were incapable of fully holding their own emotions and therefore unable to hold the emotions of others.

After being told time and time again she was "too emotional" and to "pull herself together," she realized there was a big gap in what was being taught to technical leaders. She knew that skills often categorized as "soft"—connection, empathy, vulnerability—are actually the most difficult to learn and are key to creating leaders who make an impact in their personal lives, their companies, and the world. At the beginning of the pandemic, Thorp did even more self-reflection and observation of the way leaders were treating their employees. Whether they were large corporations or entrepreneurs, she noticed the same patterns and ultimately decided to take matters into her own hands. She is now running her leadership business full-time.

Thorp holds a bachelor of science in civil engineering from the University of Calgary and is an associate certified coach through Integral Coaching Canada. She currently resides in Calgary with her husband and three children. In her spare time, she enjoys curling up with a book and cooking with her family.

Anxiety is a normal reaction to uncertainty during life's challenging moments and events. However, too much anxiety can take a toll on our daily lives and overall well-being and make enjoying life more difficult. In this course, we will discuss general information about anxiety, the body's stress response, and techniques for calming the body. We will also reflect on the effects of worry and stress and learn about the emotional activators that contribute to anxiety during life's challenging times. In a confidential and supportive environment, we will review helpful coping strategies using self-reflection and self-awareness.


About Jeremy Livingston

Jeremy Livingston is a recovery facilitator and peer facilitator for the Canadian Mental Health Association Edmonton's Recovery College.

He has studied philosophy at the graduate level and law. He is originally from Charlottetown, Prince Edward Island, and has lived in Edmonton for the past nine years.

About Meagan Chan, MACP

Meagan Chan (she/her) is a recovery facilitator for the Canadian Mental Health Association Edmonton's Recovery College. She has more than seven years of experience in the mental health field and holds a master's degree in counselling psychology.

Chan further supports individuals with their unique recovery journey through private practice as a registered provisional psychologist and as a Canadian certified counsellor.
1:45 p.m. – 2:00 p.m.
Rejuvenation break
2:00 p.m. – 3:15 p.m. — Breakout Sessions
Are you aspiring to build your career? Are you wondering how to make the choices that are right for you?
Sign up for this panel session and learn from APEGA members who have "been there and done that." Learn from their experiences as they discuss what they wish they knew when they started. You will have an opportunity to ask the panel questions.


This session is sponsored by


Panel Moderator—AJ Conway

AJ Conway brings his passion for education and learning to his role as mentoring and networking coordinator at APEGA. Having a background in education, Conway focuses on creating opportunities that maximize potential for lifelong learning and collaboration.


Panelist - Mairim Neves, P.Eng.

Mairim is a veteran consulting mechanical engineer with more than 20 years of industry experience. Neves provides mentorship for professionals embarking on their careers. Her pragmatism makes her an especially effective mentor as she guides engineers through the more practical aspects of career progression, like the logistics and costs of moving for a new role. She helps mentees choose their next steps and provides the perspective of a veteran engineer who has encountered similar situations.

Panelist - Amanda Boyko, P.Eng.


Amanda Boyko graduated with a bachelor of science in civil engineering from the University of Alberta in 2009. Through her experiences over the past 13 years working in the industrial construction industry, Boyko has learned to embrace opportunities—especially those that put you outside of your comfort zone. Boyko views the career journey as a non-linear path, and she sees personal growth and professional growth as equally important. She enjoys sharing her experiences with university students and early-career professionals through the APEGA Mentoring Program and the UA-WiSE/WiSER Mentorship Program and supports her mentees as they create their own unique career paths.

Panelist - Christine Forfar

Christine Forfar is an accomplished professional engineer currently responsible for leading the digital and business transformation of the Shell Canada Scotford asset. With a diverse background in the Canadian oil and gas industry, Forfar has experience in engineering, development, and project management with various major operators. Passionate about personal and professional growth and development, Forfar draws from her experiences and learnings to mentor and support APEGA members early in their careers.

In this session, Diane Emond will discuss how adopting high-performance habits is transformative and the key to achieving sustainable success, enabling you to design a life congruent with your values and goals. She will cover the fundamentals of high performance and explain the science behind it. You will do a self-assessment, which will give you a snapshot of where you are currently and identify areas for growth. She will provide tips and strategies on how to unleash potential by creating growth in five key high-performance areas: clarity, energy, courage, productivity, and influence.

You will learn:

how high-performance habits can bolster your career and personal life
how being clear about your life and goals is fundamental to designing the life you want
what you can do to show up with confidence, have more influence, and develop your leadership skills so you can rank higher within your organization


About Diane Emond

Diane Emond is very passionate about helping women achieve great success in all aspects of their lives, empowering them to reach their full potential without sacrificing what is important in the process. As a professional geologist for more than 25 years, she understands how delicate work-life balance can be when you are juggling your career and a family.

As a single parent, she experienced burnout in her early 30s. With the right help and a mindset shift, she went on to build a very successful career. After retiring as a geologist, Emond became a certified high-performance coach, women empowerment coach, and consultant, realizing her dream to inspire and give back to other women.

The pandemic has changed how we interact. Engagement has become more important than ever, but it's harder than ever to engage in a world turned virtual. This upbeat, fun, funny, and engaging session explores how to be a better human in a virtual world. It leaves participants full of ideas and the positive energy to turn these ideas into reality.

In this session, you will uncover how to:

be a better human—for yourself and for others—in this (COVID-19) world
create engagement power and discover why it is so valuable
fight to be positive instead of being stuck in the negative
help yourself by helping others

About Roger Haskett, BA, MA, BFA

Roger Haskett is the founder and CEO of Engagement Unlimited.
Using proprietary award-winning education, team building, and entertainment programs, Engagement Unlimited produces more engaged, productive, and happy people, teams, and organizations.

Haskett is also an award-winning keynote speaker and author of The Me You Want to Be: Roger's Rules for a Bigger, Better, More Powerful You. His thought-provoking keynotes ignite positive, transformational change in individuals and organizations across North America and beyond. His experience, knowledge, and highly contagious positive energy have garnered him countless 10/10 audience rankings, "best of conference" survey results, and hundreds of return clients.

He has a bachelor's degree in history and a bachelor of fine arts in acting (he's been in more than 150 television shows, films, and commercials, including The X-Files, Supernatural, Stargate SG-1, and I, Robot). He also holds a master's degree in education.
3:15 p.m. – 3:30 p.m.
Rejuvenation break
3:30 p.m. – 4:50 p.m. — Closing Keynote & Wrap-Up
Communication Ninja with Jennifer Barroll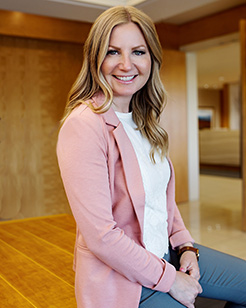 Communications expert Jennifer Barroll dives into the many forms of communication available to us and helps break down some of the most powerful ways to use these tools in the workplace and beyond.
Barroll highlights the top five communication hacks or truths that will save you time, effort, and money. She outlines tools for dealing with conflict in the workplace no matter what level of the ladder you're on, and she shares her strategic approach to communicating and leading from all directions: up, down, and laterally.
Attendees will leave this talk with a new understanding of the power they have as communicators, armed with practical tools to use in a variety of scenarios.

This session is sponsored by

About Jennifer Barroll
Jennifer Barroll is a passionate communicator. With a background as an actor, media personality, and standup comedian, Barroll uses her quick wit and energetic personality to deliver practical leadership training and communication tools. Having worked with some of the biggest brands, including NASCAR, Red Bull, and McDonald's, she helps individuals and companies reach their full potential.
Barroll spent years working in the technology industry before starting her own successful marketing and communications company. She also co-developed a successful leadership and mentorship program for youth at risk, the Calgary Youth Justice Society's In The Lead program. It's still going strong today with thousands of participants. In 2015, she was named to Avenue Magazine's "40 Under 40" list in recognition of her work.
Today, Barroll is a sought-after international speaker, host, and entertainer who specializes in leadership training, communications management, change management, and business development.
5:00 p.m. – 7:00 p.m. — Networking Mixer
The Summit will wrap up with a virtual networking mixer—a great opportunity to put your networking skills to work! This will be a time to meet professionals from industry across Canada, and learn what to expect when you enter the engineering or geoscience professions. We hope to "see" you there!