Edmonton Branch Luncheon: Diversity and Inclusion in Industry – APEGA's Current Initiatives
11:30 am - 1:00 pm
Register by September 25, 2019
In 2010, APEGA set a bold goal of increasing the percentage of women in the engineering and geoscience professions to 30 percent by 2030. The 30 percent figure is widely accepted as the threshold for self-sustaining change. Today, the 30-by-30 initiative has been endorsed by all of the provincial and territorial engineering or geoscience regulators. This luncheon will inform you about APEGA's current efforts to increase diversity and influence workplace inclusion by equipping, engaging, and empowering past, current, and future female professionals.
About the Presenter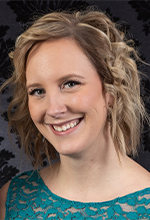 Alissa Boyle, APEGA Outreach Manager, leads the association's diversity and inclusion initiatives and is working to address key diversity and inclusion challenges in the engineering and geoscience professions. She also oversees APEGA's kindergarten to grade 12 and university outreach programs, designed to inspire and empower the next generation of professionals.
Most recently, Ms. Boyle has developed APEGA's Strategic Plan for increasing the representation of women in the professions and is leading a 3-year project to foster inclusive workplace cultures within the engineering and geoscience professions. She is passionate about transforming workplace culture to increase employee engagement and mental health awareness.
Ms. Boyle holds a bachelor of science degree in molecular genetics from the University of Alberta, a project leadership certificate from the Northern Alberta Institute of Technology (NAIT), a certificate in leadership and inclusion from Centennial College, and is a Canadian Mental Health Association certified psychological health and safety advisor. She is currently pursuing her master's degree in education focusing on workplace learning and educational neuroscience.
Ms. Boyle is the vice-chair for the City of Leduc's Family and Community Support Services Board, is a recognized "SheInnovator" with the United Nations Women's first Canadian chapter, was named one of The Wanderer Online's Top 100 Edmonton Women in Business in 2013, and Alberta Venture's Alberta's 50 Most Influential People in 2015.
Where

APEGA Lindberg Conference Centre

1500 Scotia One
10060 Jasper Avenue NW
Edmonton, Alberta T5J 4A2

Date
October 2, 2019
Time

Registration: 11:15 a.m.

Lunch: 11:45 a.m.

Presentation: 12:15 p.m.

Speaker

Alissa Boyle

Outreach Manager, APEGA

Cost

Member: $35

Non-member: $40

Student: $20

Registration Deadline
September 25, 2019