Calgary Branch Luncheon: Driving Innovation to Enhance Productivity
11:30 am - 1:00 pm
Register by October 13, 2019
The current oil and gas market makes production challenging for producers, especially high-cost producers. Finding new markets for production is also becoming more difficult. Due to the cost of production and transport limitations, business is not being run as "usual." Production costs versus market price has marginalized both the profit and investor's return. Thinking outside the box is required, and this is only possible through innovation.

These challenges are the reality of today's oil and gas market. However, these challenges appear to be creating opportunities for innovations, which are needed to enhance productivity in the long term. This presentation will highlight the importance of innovation to enhance productivity in today's oil and gas market in Alberta.
About the Presenter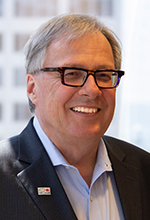 Peter D. Sametz, P.Eng., ICD.D, has over 35 years of experience in the oil industry, working with large, intermediate, and emerging companies engaged in light oil, natural gas, and heavy oil production, managing growth from 1,000 to 40,000 barrels of oil equivalent per day. His career has been characterized by an entrepreneurial and results-oriented approach to building businesses and developing cross-disciplinary teams. He has been involved in the early adaptation of technologies, including horizontal wells (since 1987), "modular" SAGD oil sands projects, cogen (2009), dilbit by rail (2010), and operations, marketing and logistics integration with a refinery (2006).

Pete has been the President and CEO of Pengrowth Energy Corporation since March 2018. One of his tasks has been to transform Pengrowth's corporate model and culture to that of a resource play developed utilizing innovative procedures and technology.

Mr. Sametz graduated from Carleton University with high distinction and is a member of APEGA and the Institute of Corporate Directors (ICD). He has been a director of public companies, including Athabasca Oil Corporation and Gemini Corporation. He also has served as a governor of the Canadian Association of Petroleum Producers (CAPP) and director of the In-Situ Oil Sands Alliance.
Where
Fairmont Palliser
133 9 Ave SW
Calgary, AB T2P 2M3
Date
October 17, 2019
Time

Registration: 11:15 a.m.

Lunch: 11:45 a.m.

Presentation: 12:15 p.m.

Speaker
Peter D. Sametz, P.Eng., ICD.D
President and CEO, Pengrowth
Cost

Member: $50

Non-member: $60

Student: $25

Registration Deadline
October 13, 2019