Concordia University of Edmonton and RoboGarden
Concordia University of Edmonton (CUE) and RoboGarden are proud to offer APEGA members a discount for two new boot camps designed to provide you with in-demand skills to participate and contribute in the growing digital economy. The boot camps have been designed for all skill levels and use a game-based learning platform and methodology developed by experts and designed for online delivery.
RoboGarden and Concordia University of Edmonton are offering APEGA members and staff a 25% discount for the courses; each course would then cost $4,495 +GST per person instead of $5,995 +GST which is the price offered for the public.
Available RoboGarden Bootcamps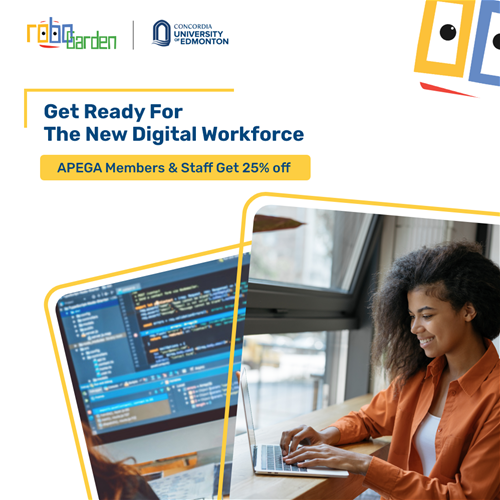 About Concordia and RoboGarden
Concordia University of Edmonton (CUE) has helped change Alberta's educational history since 1921. Since then, CUE has been one of Edmonton's City's best small universities and professional degree-granting institutions.
The Concordia University of Edmonton has over 70 majors and minors in the fields of Arts, Science, and Management. The University also has After-Degree programs in Education and Environmental Health, Masters Degrees, and a suite of Graduate Certificates and Graduate Diplomas in high demand areas.
"Partway through the course, I had already started hitting my goals. My experience with the curriculum, instructors, and TAs have been the best. If you are considering taking a course—DO IT! You won't regret it"
Kingsley Okoro, Machine Learning & Artificial Intelligence Course Graduate
CUE focuses on the needs of its learners and the community. The staff teaches students to be independent thinkers and ethical leaders to achieve success at work.
RoboGarden is a game-based site teaching students how to code by taking part in active learning.
RoboGarden was based on a philosophy called "Learn to Earn," which means students learn digital skills for the growing digital economy and workforce.
CUE and RoboGarden deliver courses with real-world situations and applications. Online instructors use an educational platform created by experts.