APEGA STEMester is an exciting new school program that heightens the learning experience of Grade 10 students in the areas of science, technology, engineering, and mathematics (STEM).
This semester-long program will connect students with professional engineers and geoscientists working in their industries. Students will explore a variety of fascinating careers by visiting industry workplaces, maker spaces, and postsecondary institutions. Students will finish the semester by designing a project that helps the greater community.
This unique opportunity takes students beyond traditional classroom learning and better prepares them for their future careers by completing hands-on projects, real-world problem solving, and industry-inspired workshops.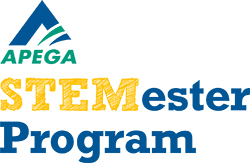 We are Looking for Partner Businesses
We are looking for members and permit holders interested in sharing their expertise by hosting a class of 25–30 students in grade 10. You can host for as little as a single day, or as long as an entire week.
We are Looking for More Partner Schools
If you represent a school or school district that would be interested in partnering with APEGA to offer the STEMester program to your high school students, please email [email protected] for information.