Be a STEMester Hosting Partner
Due to the COVID-19 pandemic, APEGA's STEMester program is on hold until further notice.
If you have any questions please contact [email protected]
Are you ready to inspire the next generation of professional engineers and geoscientists? STEMester is a great opportunity for you or your organization to share your passion for engineering and geoscience with students interested in science, technology, engineering, and mathematics (STEM). STEMester is a semester-long program for the students, with many hosts over the course of the program.
We are looking for members and permit holders interested in sharing their expertise by hosting a class of 25–30 students in grade 10. You can host for as little as a single day, or as long as an entire week.
Benefits of the STEMester Program for Hosts
This unique opportunity enables permit holders and professional engineers and geoscientists to take students beyond traditional classroom learning and better prepare them for their future careers. When you agree to host students in the field or in your facilities, you and the members of your team who take part gain many valuable benefits.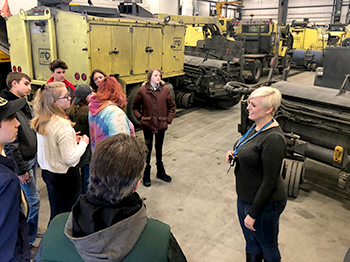 Organizational Benefits
Increase employee engagement
Build awareness of your organization's brand and vision
Receive recognition through APEGA's communications channels
Goals of the STEMester Program
The goal of the program is to engage grade 10 students in an immersive, hands-on learning experience.
The initiative will consist of:
themed weeks focusing on specific professions or disciplines
combination of lab visits, site visits, and hands-on activities
showcasing the professions in action
a variety of math and science concepts each week
relevant, real-world applications of these principles
We would like students to be able to see what different careers look like, and for them to be able to meet professionals in these fields. All activities will be supported by designated school educators and APEGA staff.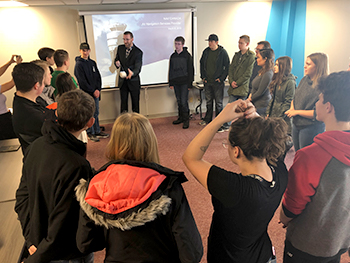 Planning Your Time Hosting
When hosting STEMester students, students will be on-site during traditional school hours: 9:00 a.m. to 3:30 p.m., with a break for lunch. There is opportunity for a very limited number of trips outside of those hours, if there is a very strong case for the learning potential. Each week of STEMester focuses on a single discipline or profession.
If you can commit to an entire week, you'll be able to have priority in selecting dates and themes. During your week hosting, plan for 3-4 days on-site to allow students plenty of time for hands-on learning, as well as time in the classroom for further discussion and review of what they've learned.
If a whole week is not possible, we still want to hear from you! You can host for as little as one day, and even multiple days throughout the semester. We are very flexible and willing to accommodate to ensure the students get the most variety and knowledge in the STEMester program.
To get involved in STEMester or for more information, please contact Outreach at [email protected].