APEGA STEMester Qualifies for Course Credit Toward Graduation
Students will gain 20 credit in the following courses:
Math 10C (5 credits)
Science 10 (5 credits),
Design Thinking (3 credits)
HCS 3000 - Workplace Safety Systems (1 credit)
HCS 3010 – Workplace Safety Practices (1 credit)
PRS 1010/1020/1050 - Geology (3 credits total)
Two additional Career and Technology Studies course credits, dependent on the industry partners in your schools' area
The STEMester School Day
Students will arrive at their regular school each day and go to their designated STEMester classroom.
Days will consist of a mixture of in-class time or field trips and site visits. When students are in class they will be completing projects based on what they learned during field trips or will be introduced to new concepts that relate to future out-of-classroom activities.
Students will return to their school for regular pickup time.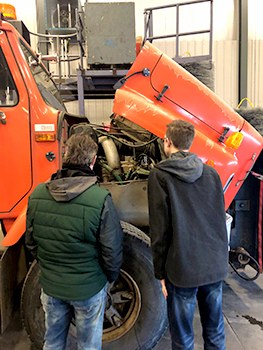 STEMester Field Trips & Site Visits
Most field trips will be scheduled within regular school hours. There will be a few overnight field trips, when students will be bussed to important educational sites (e.g., oil sands, significant geological features in Alberta) within the province. These overnight trips will be communicated far in advance.
Students are encouraged to attend all scheduled field trips and site visits as STEMester is designed so students gain knowledge and experience directly from industry experts. If a student is unable to attend one of these off-site experiences, the teacher will provide resources for the student to learn the same concepts independently.
Coordinating STEMester and Other Extracurricular Activities
Excluding overnight field trips and site visits, STEMester students will start and finish school at their regular school at the same time as other classes.
Nonetheless, if students want to participate in school sports teams, they are encouraged to speak to the team coach prior to trying out. STEMester students will not be able to miss class during the day and may miss games or practices in the evenings when travelling for overnight trips.
STEMester gives students flexibility in how they demonstrate their learning. Each week will begin with an overview of the course content that students will learn, mapped directly to any field trips or site visits scheduled. Students will be responsible, through self-assessment, peer-assessment, and communicating with their teacher, for monitoring their understanding and demonstrating their mastery of the concepts.
Students will finish the semester with a final project that uses the knowledge gained during STEMester to solve a real-world problem. The project theme, scope, and delivery will be driven by student interest. The teacher and APEGA staff will be involved in helping students plan and schedule their projects, to ensure it will be completed on time, and to ensure it adequately covers the curriculum.
All students will finish STEMester with a numerical grade for each course, which will be clearly communicated to them prior to the semester's end.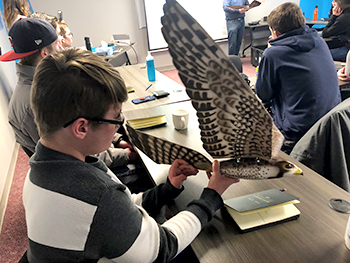 Withdrawing from STEMester
The STEMester program teaches all 20 credits worth of information in a wholistic, integrated manner. As such, it will be difficult for students to withdraw from the program and seamlessly transition into a standard class. To provide students flexibility, APEGA and your school have determined a withdrawal deadline, typically no more than 1.5 months after the program starts. Speak with your school representative to learn more about the withdrawal date for your school.
Interested in Registering for STEMester?
We are currently planning to run STEMester in Fall 2021 with Parkland School Division and the Calgary Board of Education. Please contact your school district if you are interested in participating.

We are working to coordinate with other school boards and divisions around Alberta to expand the availability of STEMester, so please check back again for updates.