Webinar for Internationally Trained Professionals
On September 28, 2020, APEGA will host a webinar that celebrates APEGA's centennial and its future with internationally trained engineers and geoscientists, with presentations from APEGA Registrar & CEO Jay Nagendran, P.Eng., and President John Van der Put, P.Eng.. They will discuss APEGA's mandate, how our members have impacted the province over the past century, and APEGA's future direction.
This event will be led by Enayat Aminzadah, APEGA International Qualifications Officer, and will also feature a presentation from APEGA Compliance Manager Saumya (Sam) Barua, P.Eng., who is himself an internationally trained professional. Sam will share details about his career and global work, and his experience as an internationally trained professional. Attendees will be guided to the resources APEGA has available regarding the application process.
Sharing the ITA experience
Sam has more than 37 years of global engineering experience spanning North America, South America, the Middle East, and Asia. After 20 years of global experience and exhaustive research, Sam migrated to Canada and made his home in Calgary, joining APEGA as an internationally trained member in 2005. In 2008, he became an APEGA mentor and uses his role to meet new applicants. In 2015, he was the recipient of APEGA's prestigious Mentor of the Year Summit Award.

Following his experience as an internationally trained member and a professional engineer in Alberta, Sam knew he wanted to share his experiences with others. "It's important to me to continue working with internationally trained applicants," states Sam. "I love Alberta, and I want them to understand the way engineering works in Alberta so that they can continue to grow and flourish here."
As APEGA's Compliance Manager, Sam and his team resolve more than 400 infractions every year involving non-APEGA members and non-permit holding companies. His team ensures that only licensed APEGA members and permit holding companies practise engineering and geoscience in Alberta's self-regulated environment.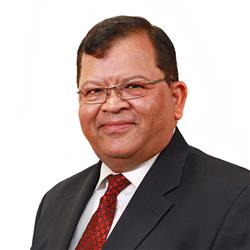 Saumya (Sam) Barua, P.Eng., FEC, FGC (Hon.)
Compliance Manager