E-mentoring: Spend This Time Finding the Right Fit
As Albertans continue to work from home to help flatten the COVID-19 curve, professionals are forced to find new ways to connect to keep the economy moving. However, this change in how we communicate also creates new opportunities for professional engineers and geoscientists to build stronger connections with each other and help nurture the next generation of self-regulated professionals.
There is no denying that this significant change in business has impacted everyone from professional geoscientists collecting field data to senior project managers approving multimillion-dollar operations. But with this change comes new opportunities.
"I hear all the time that face-to-face is always the best way maintain a strong relationship between mentors and mentees," says AJ Conway, APEGA's mentoring coordinator. "But e-mentoring is the best way to start building those relationships that lead to that hour-long coffee meeting after things get back to normal."
All About Sharing and Connecting
Mentoring is about discovering shared values and connecting with someone else on a professional level. It's a safe place to openly discuss career growth or how to update a resume, or even talk about personal, everyday life. And it starts with a socially distant phone call, text, or email.
"Any APEGA member in good standing, at any age or career level, can be a mentee, but mentors need to have a professional designation," explains Conway. "Mentors and mentees fill out their online profiles, and then it's up to the mentee to make the connection and the mentor to accept that connection.
"Once the connection is made, the mentee receives the mentor's contact information. From there, it's all about finding if the relationship is a good fit, and if it's not a good fit then that's okay, too. The time spent looking for the right fit is the most you stand to lose. The gains you stand to make, though, by putting yourself out there and finding a good connection will last a lifetime."
Using Technology
The idea of the right fit applies to technology, as well. If downloading new software or trying out a new video conference program is too complicated for the mentor or the mentee, they can stick with what's most comfortable. There are countless ways to meet online, be it through social media apps, video conference software, text messages, or emails.
Then again, there's always the old-fashioned phone call. Conway recommends WhatsApp—a mobile-phone app that connects people through their phone numbers over Wi-Fi—as it's free to use, secure, and won't eat into limited voice or data plans.
"Being a mentor means you're bringing up the next generation of professionals while helping to create a better self-regulated profession," says Conway.
And, as icing on the cake, taking part in APEGA's Mentorship program earns mentors up to 20 continuing professional development hours in the participation category, and mentees can claim up to 30 hours in the informal category.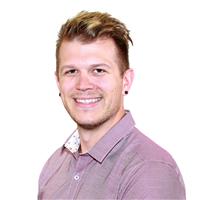 AJ Conway
APEGA mentoring coordinator